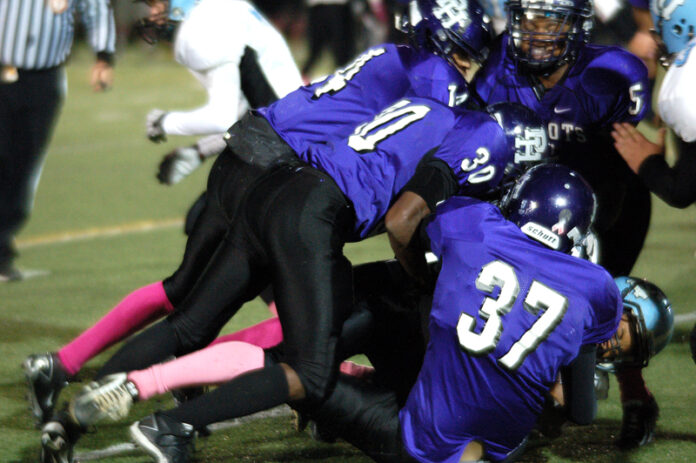 by Bill Turner
Grandin Road was shut down Friday evening for the Patrick Henry homecoming parade. The Patriot band, homecoming court and cheerleaders marched into Gainer Field to start the festivities. The PH football team followed suit, marching over Halifax County to remain perfect in the Western Valley District football race.
The 41-0 blowout sets the stage for this Friday night's showdown with Franklin County, set for a 7:00 p.m. kickoff at PH.
Patrick Henry wasted little time getting things going in their direction. Xavier Whorley's 17-yard run and a 2-yard plunge by Nicholas Ollie staked the Patriots to a 14-0 lead in the opening quarter. Quarterback David Prince scored on a 14-yard run in the second quarter before placekicker Jacob Otterman added a 22-yard field goal that sent Patrick Henry to the locker room up 24-0.
Ollie would go in from 10 yards out and Otterman would connect from 28 yards for his second field goal to extend the PH lead to 34-0 after three quarters. Benjamin Mesadieu closed out the Patriot scoring with a 34-yard run early in the fourth.
The Patrick Henry defense held Halifax County to 203 total yards, and intercepted Blue Comet quarterback Ford Bradshaw three times. Patrick Henry played a penalty-free game.
Prince led the Patriot offense with 111 rushing yards, while Whorley picked up 75 yards on the ground and Antwaun Harried added 60.
Friday night's game against the Eagles will have significant playoff implications as both teams are undefeated in the Western Valley District. A PH win assures the Patriots of the regular season district title before heading into their November 4th matchup at cross-town rival William Fleming