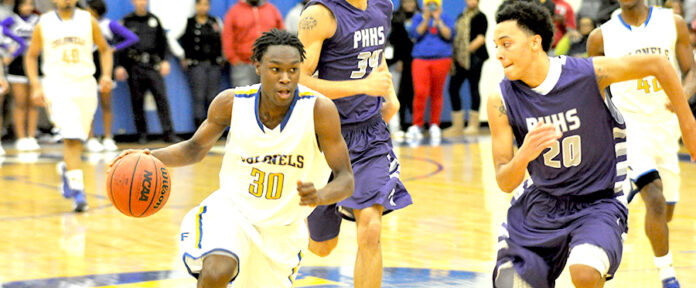 William Fleming settled matters with the doubters Friday night in the packed Colonel gym.
Picked by many to finish last in the ever-tough Western Valley District, Fleming executed a masterful game plan to perfection, knocking off Patrick Henry 43-32 to complete the regular season district sweep of their crosstown rivals and improve to 7-1 (16-4 overall).
The Colonels has boosted their stock in the district last month with a 58-57 win over the Patriots on the PH court and a convincing win over GW Danville that put Fleming right back in the mix of frontrunners.
Friday night, Fleming coach Mickey Hardy brought out a game plan that slowed the tempo, keeping PH off balance the entire night. Holding the Patriots to 32 points, two of which came on an uncontested layup at the buzzer, was a masterpiece against a talented Patriot offense  that had scored 111 points earlier this season in a game against Martinsville.
"I'm so proud of how our guys played for four quarters. To hold PH to 32 points is a tribute to these guys. Tonight, the defense clicked on all cylinders. That's what we preach; playing hard for 32 minutes."
Fleming made its first key move in the second quarter after holding a narrow 8-4 lead after the first 8 minutes. Leading 12-11, the Colonels went on an 8-0 run, before a late Patriot basket sent the teams to the locker room with Fleming up 20-13 and the Colonel confidence showing.
The Colonels expanded their advantage to 34-22 after three quarters, and when Fleming sophomore Warren Craft scored and converted the free throw for an old-fashioned 3-point play with 6:30 left, Fleming led by fourteen and it became evident a Patriot comeback was looking more and more unlikely. 
"William Fleming was so perimeter oriented tonight," PH head coach Jack Esworthy said as the Patriots were left to do some soul searching.
'We're not the same team as a month ago." Esworthy added. "We've become one-dimensional. We need to trust each other on the offensive end and start making plays. If we start doing that, there's a snowball effect. Defensively we're fine."
"Since the last Fleming game, every team has jumped on us in the first quarter. We need to be mentally ready."
Craft and Adrian Dungee led the Fleming scoring with nine points each. Diamond Shorter followed with seven points for the Colonels, but it was Shorter's defensive effort on PH leading scorer Marcus Banks that was key, as Banks was held to seven points.
Trayvon Crowder led PH with nine points, with Austin Donithan chipping in seven.
by Bill Turner