For the first time, Virginia Tech earned the Bee Campus USA certification for commitment to sustaining native insect pollinators, a designation that further cements the university's Climate Action Commitment to create a green and sustainable campus. The initiative is sponsored by the Xerces Society for Invertebrate Conservation.
"Over the next few years, our committee will work toward designing and implementing projects and education opportunities that will help make our world more bee-friendly," said Margaret Couvillon, assistant professor of pollinator biology in the Department of Entomology in the College of Agriculture and Life Sciences, who serves as chair of the committee that organized the certification.
Bee Campus USA certification requirements serve as a guideline for affiliated campuses such as Virginia Tech to increase their commitment to preserving these native pollinators. This is achieved through a long-term plan to increase native plant habitat, provide pollinator nesting sites, reduce pesticide use on campus, and develop pollinator conservation education and outreach opportunities for the campus community.
"This is another recognition of our efforts in the Division of Campus Planning, Infrastructure, and Facilities and across the university to advance campus sustainability," said Matt Gart, grounds manager. "To support pollinators on Virginia Tech's Blacksburg campus, we consciously select mostly native plants and shrubs that require minimal maintenance and pesticides. We also allow perimeters of campus – such as the area beyond the grass shoulders along Southgate Drive to Route 460 – to grow as a meadow with infrequent mowing."
Pollinators are responsible for the reproduction of at least 85 percent of the world's flowering plants. A third of all food humans eat comes from plants that rely on pollinators, with native insect pollinators contributing a large portion of this pollination. In the United States, native pollinators contribute to the yearly reproduction of an estimated $3 billion worth of crops.
Unfortunately, research shows these native insect pollinator populations are declining worldwide, due to habitat loss, pesticide use, and climate change. Global efforts are needed to preserve these insects and ensure farms are still able to produce the crops the world needs.
The Virginia Tech Bee Campus Standing Committee is composed of 17 dedicated and enthusiastic students, faculty, and staff from many different disciplines across campus.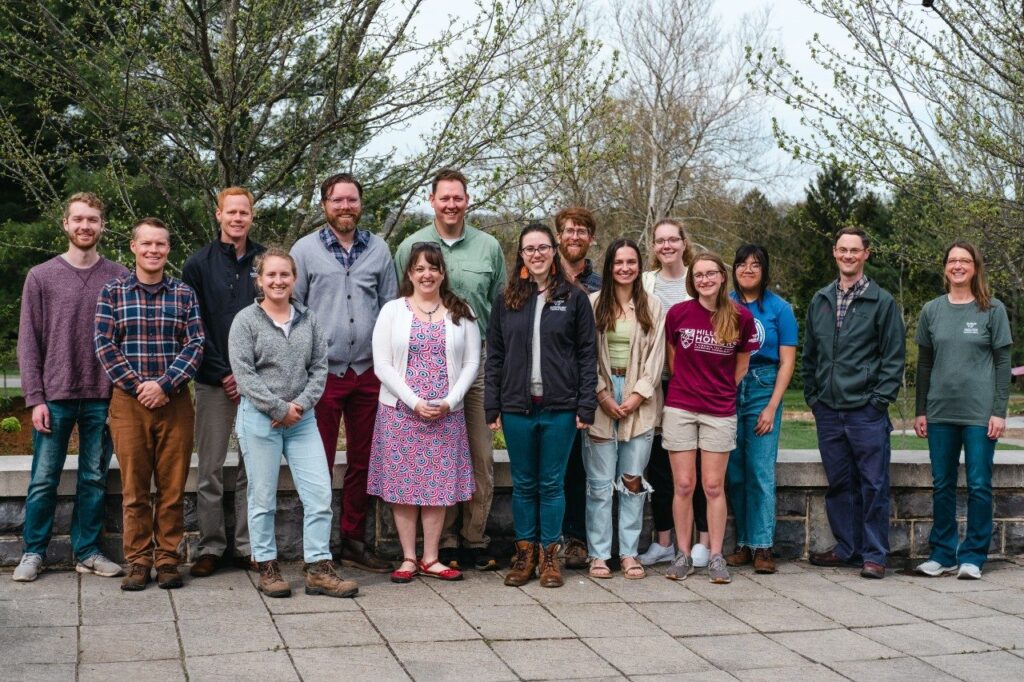 "I've never seen a program get up and running as fast as Bee Campus at Virginia Tech. In less than a full academic year, we were able to get accepted as a Bee Campus affiliate. We could not have done it without the support and excitement from all of the students who have gotten involved along the way," said Emily Vollmer, the sustainability coordinator in the Office of Sustainability, which is part of the Division of Campus Planning, Infrastructure, and Facilities and a driving force behind Virginia Tech's Bee Campus USA certification.
This certification also works toward fulfilling aspects of the 2020 Virginia Tech Climate Action Commitment. The commitment seeks to achieve carbon neutrality by changing the university's physical infrastructure, collective and individual behaviors, and educational mission. By becoming affiliated with Bee Campus USA, Virginia Tech will work closer to reaching Goals 6 and 10 of the Climate Action Commitment.
Goal 6 seeks to ensure that Virginia Tech's agricultural, forestry, and land use operations will be carbon neutral by 2030. Reducing the use of carbon-emitting pesticide treatments will help contribute to this goal.
James Wilson, collegiate assistant professor and Extension apiculturist in the Department of Entomology, is the pollinator protection and Integrated Pest Management Team leader. His team's responsibility is to use cutting-edge research to reduce pesticide use focusing on reducing pesticide applications that are most harmful to pollinators. By focusing instead on integrated pest management programs, pesticide applicators will make informed decisions about the most efficient methods for pesticide application, reducing harm to both our environment and pollinator populations.
Goal 10 of the Climate Action Commitment seeks to integrate the commitment into Virginia Tech's educational mission by way of the Climate Action Living Laboratory. This utilizes the university's beautiful campus and surrounding area to teach students about climate action initiatives and the importance of preserving our environment. Through pollinator conservation education and outreach, the Bee Campus USA program will raise awareness, involve students in service learning projects, enhance the campus green spaces, and create better habitats for native pollinators. All of these educational and outreach opportunities can only take place in a living laboratory setting.
Vollmer is leading many of these service learning projects, and she places a strong emphasis on student engagement in Bee Campus USA projects.
"The Bee Campus program provides an opportunity for students to get involved with sustainability on campus in a way that works for them. Students are welcome to serve on our committee and develop plans for reducing pesticide use, identify areas for new pollinator habitat, or inventory our current pollinator habitats around campus. They can attend our service learning events throughout the year, or they can simply follow us on social media to get the latest news on our Bee Campus efforts." Vollmer said.
This program has already created a buzz around campus.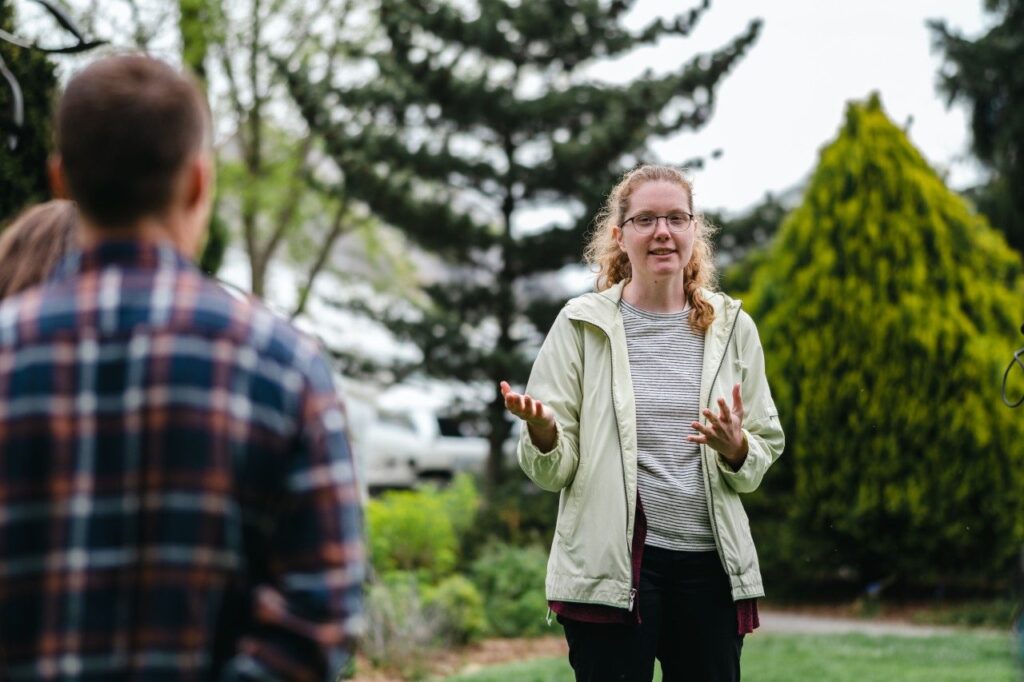 In early spring, the committee led a lavender planting behind Hillcrest Hall, which turned a grassy area into a pollinator-friendly garden. Its members also led an educational pollinator walkthrough of Hahn Horticulture Garden, where Couvillon and members of her lab educated attendees about pollinators and plants beneficial to them. Her lab's research will continue to help inform the committee on the best practices to promote pollinator health and create flourishing gardens for them.
"The importance of Bee Campus is making a long-term commitment with a long-term vision to ultimately create a sustainable habitat for pollinators. But most importantly it brings Hokies together around the shared cause of working to conserve insect pollinators," Couvillon said.
Looking ahead, there will be three additional student-proposed pollinator gardens planted on the Blacksburg campus, funded through the Office of Sustainability's Green RFP Program.
To keep up with all the latest about Virginia Tech's Bee Campus USA affiliation check out our Bee Campus Instagram, Twitter, and website.
Virginia Tech has also been a part of Tree Campus USA for 14 years.