Researchers, clinicians, and students from four countries recently worked side-by-side for three days in Roanoke, sharing ideas to help the nearly 1 billion people worldwide coping with brain disorders.
Standing at the lectern to kick off the Precision Neuroscience Conference in May at the Hotel Roanoke and Conference Center was Michael Friedlander, Virginia Tech vice president for health sciences and technology.
"This represents a meeting of the minds of a group of researchers and physicians who many years ago found that there really was a gap between incredible scientific discoveries and the ability to apply those discoveries for better care for patients with psychiatric or neurological disorders or injuries," Friedlander said. "That group has worked quite a while to bring our expertise together as frequently as possible to share ideas."
In 2018, the event location rotated to Oslo, Norway, and quickly planning ensued for the next meeting for 2020 at Virginia Tech in Roanoke.
Delayed by the pandemic in 2020, the symposium came into sharp focus for 2022, organized by a planning committee of co-chairs Friedlander and Clive Bramham from Norway along with Anders Nykjaer from Denmark; Linda Bergersen, Asta Haberg, Jon Storm-Mathisen, and Tor Haugstad from Norway;  and Pearl Chiu, Stephanie DeLuca, Michael Fox, and Hal Irvin from the Fralin Biomedical Research Institute.
The symposium expanded to include scientists from other states and additional countries including the Netherlands and Germany. The Roanoke event attracted 140 attendees, including speakers and poster presenters from 18 institutions from eight states (California, the District of Columbia, Maryland, Massachusetts, New York, North Carolina, Ohio, and Virginia).
The Precision Neuroscience effort is intended to help patients with brain disorders or injuries by bringing leading scientific innovations to the clinic and the community, with a focus on individual differences. Throughout the conference, translational research, where scientists and clinicians concentrate on moving discoveries from the laboratory into clinical practice, was a recurring topic.
"This is about how we can better treat neurological, neurosurgical, and psychiatric diseases, because today many of those disorders are without treatment options or the available options are not really helping the patient to live a full life," said Asta Kristine Håberg, professor of neuro-medicine and movement science at the Norwegian University of Science and Technology. "By bringing people from molecular sciences together with others working on translational models from animals to humans, we're trying to bridge this gap so that we can actually give people not only hope, but actual better diagnoses, better treatment, and full recovery."
Carol Mason, a professor with Columbia University's Mortimer B. Zuckerman Mind Brain Behavior Institute who is an elected member of the National Academy of Science and who delivered a keynote presentation, said, "It's about the discoveries that are being made on the molecular and the cellular level, about the changes that occur in the brain during development, and how things can go wrong at these levels and how we can harness what we're learning at these levels to allay neurological disease, psychiatric disease, and beyond."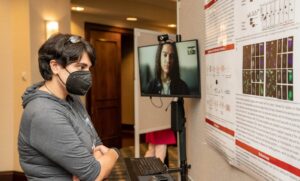 Tor Haugstad, professor of neurology at Sunnaas Rehabilitation Hospital in Oslo, said, "Some of us treat patients, some of us treat mice, some of us are occupied with molecules. This is where scientists come together and compare the different aspects of their research that affects human nature and human biology."
Eugene Hwang, a pediatric neuro-oncologist and translational researcher at Children's National Hospital in Washington, D.C., said, "Some of the science that has been presented is outside of the realm that I normally think about, but that's a strength because you start to see different perspectives and tie those pieces into topics of research that you're doing."
Biomedical engineering also adds a significant approach.
"We learn a lot by understanding how others with different perspectives approach a problem," said Rafael Davalos, the L. Preston Wade Professor of Biomedical Engineering in the Virginia Tech College of Engineering, who presented research on Irreversible Electroporation, which is a rising method to treat cancer by exposing tumor cells to short, intense electrical pulses.
Similarly, Rolf Bjerkvig, a cell biologist and professor of medicine at the University of Bergen, sees great promise in the fusion of neuro-oncology, neurology, and neuroscience.
"We in the cancer field can learn a lot," said Bjerkvig, who has been working in experimental cancer biology research since the early 1980s. "This effort is developing and I expect it to grow."
For these scientists, the opportunity to discuss brain diseases in the context of "precision medicine" — an approach that considers individual differences in genes, environment, and lifestyle — made a lasting impact.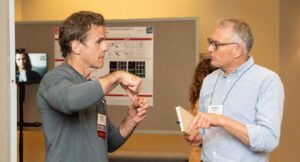 "All of us are coming from different avenues and we're all learning things – we have clinicians that are learning the basic science and basic scientists learning the clinical side of it," said Francis Farrell, senior director of research and development at Carilion Clinic. "The breadth that we've covered in neurodevelopment over these two days has been tremendous."
For that growth to continue, scientists and physicians must more regularly talk to each other, conference organizers said.
"We hope that by interacting, we make much more progress than normally would be possible when you work individually, because we can learn from each other and stimulate the direction of research," said Jan H. J. Hoeijmakers, principal investigator at Global Faculty University of Cologne and professor of molecular genetics at Erasmus University Rotterdam. A basic scientist who studies aging and DNA damage, Hoeijmakers directs laboratories in Rotterdam and Utrecht in the Netherlands, and in Cologne, Germany, and was one of the conference's keynote speakers.
"In the end, I'm confident that the lay public, the people, the patients, and the families will benefit from our interactions," Hoeijmakers said. In addition to symposium lectures, 27 posters were presented by students, postdoctoral fellows, and early career faculty, of which eight were selected for podium talks by a panel of judges. The podium-talk prize winners selected by the judges were: third place – Niesha Savory; second place – Alena Salasova; and first place – Beatriz Torres-Ceja.
"The science that was presented was absolutely top quality, innovative and, in most cases, very new, generating considerable questions, discussion, and lively consideration of future collaborative opportunities," Friedlander said. "The buzz around the posters was almost deafening and the energy was palpable. It was wonderful to see so many colleagues re-engaging in the social aspects of the scientific enterprise, particularly the students and postdocs who have not yet had such opportunities."
The symposium also bolstered the region's position on the scientific map.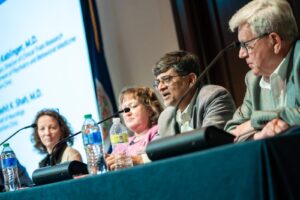 "It's inspiring to have this international conference here in Roanoke," said Camden Kurtz, a third-year medical student at Virginia Tech Carilion School of Medicine. "It's been a humbling experience. We've seen lots of compelling talks from prestigious individuals, including Dr. Josh Gordon, the head of the National Institute of Mental Health. It's been wonderful just to have all these great minds come together and share ideas and great questions, and hopefully make progress and move forward with new ideas and new things to take home and start working on."
The fourth International Precision Neuroscience Conference will be held in Aarhus, Denmark, on June 5-7, 2024.
In the meantime, organizers plan to create opportunities for researchers and postdoctoral students to collaboratively work across the Atlantic.
"We're very excited about this meeting not only as a chance to share information, but to foster, catalyze, and create new collaborations that will keep this initiative and precision neuroscience going," Friedlander said. "The whole idea here, of course, is to meet the challenges of brain disorders, which remain the number one cause of disability in the world."
In addition to conference host Fralin Biomedical Research Institute at VTC, the event was sponsored by Virginia's Blue Ridge, and Virginia Tech's Center for Organizational and Technological Advancement, College of Science, School of Neuroscience, College of Natural Resources and Environment, Virginia-Maryland College of Veterinary Medicine, the College of Agriculture and Life Sciences, and the Office of the Provost.