STEAM Coffee + Eatery, a grab-and-go retail space that opened to the public on Oct. 10 in The Hotel Roanoke & Conference Center, is the newest addition to the historic property's food and beverage offerings.
As an authorized purveyor of Starbucks, STEAM Coffee + Eatery celebrates the treasured rail heritage of the region throughout the design and themes of the new space.
"We've noticed a need to open and offer a grab-and-go option in the hotel and we're proud to bring STEAM Coffee + Eatery to our guests, visitors, and the Virginia's Blue Ridge region," said Brian Wells, general manager of The Hotel Roanoke & Conference Center. "STEAM named for the iconic 611 steam locomotive, will be a great place for guests to relax, share ideas and conversation, or to grab a quick refreshment on the go."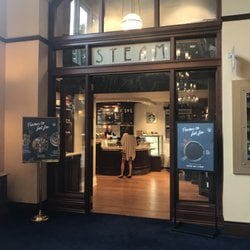 The eatery offers homemade sandwiches, paninis, flatbreads, salads, and a selection of gourmet pastries and desserts made fresh daily by the chefs at The Hotel Roanoke & Conference Center. STEAM Coffee + Eatery offers a full selection of Starbucks beverages, including Nitro Cold Brew and blended smoothies.
Free WiFi is offered in the renovated space inside the conference center, while an outdoor area with seating for 20 is available in the North Entry Courtyard. Short-term parking is available for STEAM Coffee + Eatery at the Wells Avenue entrance of the property.
"Rail enthusiasts will love the ties to the 611 and rail heritage of the region," Wells said. "And the themes and concept of this space are tied to the storied past and present of our neighborhood – refreshed, revitalized, and bursting with energy."
Originally built in 1882 by Norfolk and Western Railway, the Hotel Roanoke served the region for more than century until it closed its doors in November 1989. Following a $42 million project to renovate the hotel and build a conference center, the "Grand Old Lady" reopened in 1995 through a partnership between the City of Roanoke and Virginia Tech.
Since its reopening, the hotel and conference center, owned by the Virginia Tech Foundation, has infused more than $600 million into the local economy. Since 2016, the property has been managed by Benchmark Hospitality International and has become part of Hilton's Curio Collection. The Hotel Roanoke was the new brand's first hotel in Virginia.
STEAM Coffee + Eatery is located at 110 Shenandoah Avenue by the grand staircase in The Hotel Roanoke & Conference Center. The coffee shop opens at 5:30 a.m. Breakfast service runs from 5:30-11 a.m. daily with lunch and dinner offerings from 11 a.m. – 8 p.m.
To learn more about STEAM Coffee + Eatery, visit www.HotelRoanoke.com.