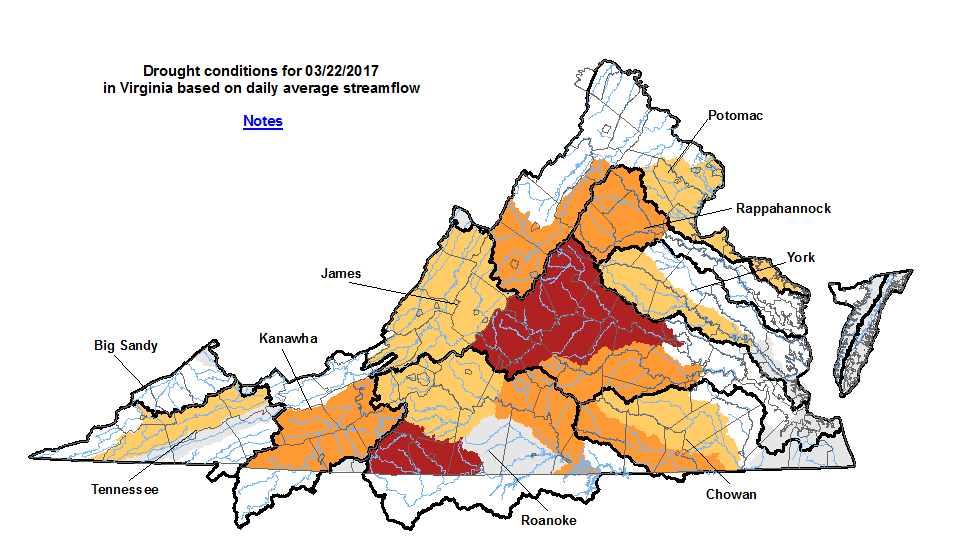 In response to existing conditions and to increase public awareness of the potential for a significant drought event, the Virginia Department of Environmental Quality has issued a drought watch advisory for the Middle James, Roanoke River and Shenandoah drought evaluation regions.
The affected localities and public water suppliers in the Middle James drought evaluation region include Albemarle, Amelia, Amherst, Appomattox, Buckingham, Chesterfield, Cumberland, Fluvanna, Goochland, Hanover, Henrico, Nelson, Powhatan and Prince Edward counties and the cities of Charlottesville, Colonial Heights, Hopewell, Lynchburg, Petersburg and Richmond.
The affected localities and public water suppliers in the Roanoke River drought evaluation region include Bedford, Campbell, Charlotte, Franklin, Halifax, Henry, Mecklenburg, Patrick, Pittsylvania and Roanoke counties, and the cities of Danville, Martinsville, Roanoke and Salem.
The affected localities and public water suppliers in the Shenandoah drought evaluation region include Augusta, Clarke, Frederick, Page, Rockingham, Shenandoah and Warren counties, and the cities of Harrisonburg, Staunton, Waynesboro and Winchester.
The drought watch advisory previously issued for the Northern Piedmont drought evaluation region remains in effect.
A drought watch advisory is intended to increase awareness of conditions that are likely to precede a significant drought event and to facilitate preparation for a drought. This advisory is being issued because drought watch indicators in the state's Drought Assessment and Response Plan have been met.
According to the Virginia Drought Monitoring Task Force, an interagency group representing state and federal agencies, the primary factors contributing to the declaration of the drought advisory are:
Precipitation totals are less than 75 percent of normal over the past 90 days and less than 25 percent of normal over the last 30 days across much of the areas covered by the Middle James, Roanoke River and Shenandoah
Stream flows are lower than 75 percent to 95 percent of recorded flows, indicating a moderate to severe hydrologic drought – a period of below-average water content in streams, aquifers, lakes and
Groundwater levels are lower than 75 percent to 95 percent of previously recorded September and October
DEQ is sending notifications to all local governments, public water works and private sector water users in the affected areas, and is requesting that they prepare for the onset of a drought event by developing or reviewing existing water conservation and drought response plans. Through the drought watch advisory, Virginia is encouraging localities, public and private water suppliers, and self-supplied water users in the affected localities to voluntarily take these steps to help protect current water supplies:
Minimize nonessential water
Review existing or develop new local water conservation and drought contingency plans and take conservation actions consistent with those
Include water conservation information on local websites and distribute water conservation information to the public as broadly as
Continue monitoring the condition of public waterworks and self-supplied water systems in partnership with the Virginia Department of
Impose water use restrictions when consistent with local water supply
Aggressively pursue leak detection and repair
The next stage after a drought watch would be a "drought warning," which would be issued if conditions warrant. Drought warning responses are required when the onset of a significant drought event is imminent. Water conservation and contingency plans that are already in place or have been prepared during a drought watch stage would begin to be implemented. Water conservation activities at this drought watch stage generally would be voluntary. This does not preclude localities from issuing mandatory restrictions if appropriate.
Statewide information on the current drought status is available on the DEQ website at www.deq.virginia.gov.