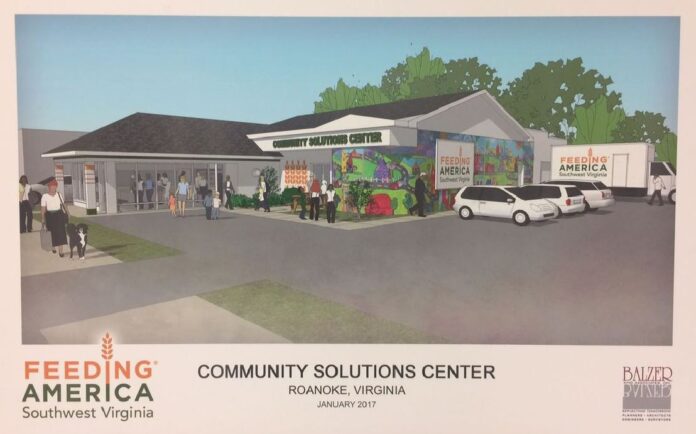 The property in Northwest Roanoke, on Melrose Avenue last known as Ms Choc's Lounge, was for a time the busiest spot for Roanoke City Police. Just last year a shooting there left four people injured.
Now it's undergoing a rebirth as a community center for Feeding America Southwest Virginia – although it will take another year until the projected opening next summer. A fire labeled as arson that damaged the kitchen area in the former restaurant won't deter the project said Pamela Irvine, president and CEO for the local Feeding America food bank in Salem.
The new community center will feature a teaching and production kitchen where by next summer students will be learning food service cooking skills under a culinary arts program led by partner Goodwill Industries of the Valleys. There they will prepare lunches for delivery to venues where children that rely on school meals can be assured of having at least one healthy meal per day when school is out.
This summer the Feeding America lunch program is using the LEAP kitchen in the West End Center to deliver meals to the Boys and Girls Club on 9th street and various other locations.
Also planned is a community room and space for the Roanoke City police department to set up a substation of sorts. "Our vision for the [community room] is to bring individuals and organizations together to meet with city council, their U.S. Senators, Congressman and General Assembly members – to have good neighborhood conversations," said Irvine.
The police substation isn't planned as a place to make calls from but more as a way to "build relationships within this community," said Irvine at an event held with Goodwill and other community organizations like "The Peacemakers" present.
Afterwards many gathered at the weathered sign for the former restaurant as Keith Farmer with Straight Street Ministries offered a prayer. "We planted a stake here because this is the highest crime property in the city of Roanoke," said Irvine.
The Roanoke City police "aggressively" determined that something had to be done about the Ms Choc's property, said Irvine and assembled a community coalition of non-profits and business leaders to make that happen. That effort lead to the Food Bank purchasing the property.
This is a new tack for Feeding America Southwest Virginia said Irvine, who also notes other Feeding America affiliates across the country have been working on what she called collaborative partnerships. "This is the first formal partnership with a police department – and purchasing a property because of crime."
The impact of crime – as well as poverty and inadequate or unaffordable housing – is another reason people go hungry and seek the services of a food bank like Feeding America, noted Irvine. "Crime is an [impediment] to people being self-sustaining."
Roanoke City Police Captain Rick Morrison helped spearhead the Ms Choc's purchase by Feeding America. "I remember vividly coming here almost every weekend, with anywhere from 12 to 15 police officers to just try and manage the level of violence occurring at this one location. At several points in the last couple of years this was the most violent location in the city of Roanoke. That's how bad it was."
When efforts to keep that venue shut permanently failed, Morrison said he talked to business owners and people that had lived in the area for 30 to 40 years, who told him they were "fed up and lived in fear." In some instances they had moved or closed nearby businesses, said Morrison, because of 2328 Melrose Avenue northwest.
Now it looks like better days are ahead for that property – and the surrounding neighborhoods.
Gene Marrano