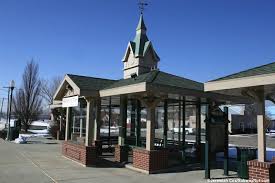 The Bedford/Franklin Regional Rail Initiative (BFRRI), a group of local officials and residents drawn from Bedford and Franklin Counties, has welcomed the findings of a recently completed study to assess the feasibility of a passenger rail station in the Town of Bedford serving the region of Bedford County and northern Franklin County.
Following the advice of the Virginia Department of Rail and Public Transportation (DRPT), the BFRRI helped secure funding to perform a rail passenger estimate and economic benefit analysis of the station. Funding was provided by the Town of Bedford, Bedford County, Franklin County, the Bedford, Lynchburg and Smith Mountain Lake chambers of commerce, and the Region 2000 Business Alliance. The study is the product of the engineering firm of Wendel, which conducted similar studies on the proposed Lynchburg and Roanoke stations.
The study concluded that the Bedford Station locally based usage will produce an additional 26,000 trips beyond what the Lynchburg and Roanoke stations will produce.  "This is wonderful news," declared Bedford Town Manager and BFRRI Chairman Charles Kolakowski.  'This places us well up the ladder of ridership compared to the other 22 stations in Virginia."
Bedford Mayor Bob Wandrei was upbeat about the findings. "These results are very encouraging. We look forward to hearing back from DRPT after they have conducted their study so we can continue to work on this proposal."
Franklin County Supervisor Bob Camicia added, "We were confident the findings would support our positions and thrilled to learn that the projection for usage is at that level. We are hopeful that additional tourism travel will occur once the station opens."
Bedford County Supervisor Curry Martin stated, "This is a positive step forward in the process and I am pleased that the economic benefit analysis shows a significant net gain for economic activity in the region."
The study includes the conceptual design for the station, which is anticipated to be located at a site behind the Bedford County Courthouse.  That design includes convenient same level parking and boarding, all located in an area the Town owns and has committed for the station.
The study was presented to the DRPT for review and analysis.  The DRPT anticipates beginning its extension of service to Roanoke in 2017.  "The study anticipates a 2018 starting date for service to Bedford," Kolakowski noted.