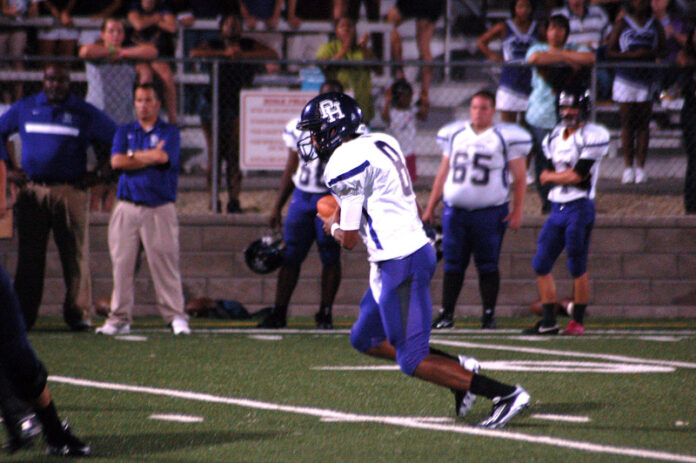 by Bill Turner
Patrick Henry came out smoking as the Patriot offense paved the way to an impressive opening night win last Friday night at Dwight Bogle Stadium. The 42-14 takedown of Hidden Valley gave first-year PH head coach Alan Fiddler a night to enjoy in his Patriot debut.
"It was a great first game," Fiddler noted outside the PH locker room afterward. "We were able to establish the tempo and go with the speed we wanted. Our guys played well on both sides of the ball."
Any doubts about PH quarterback David Prince were put to rest as the junior signal caller rushed for 108 yards and was 6-of-9 throwing, including a 55-yard second-quarter hookup with Xavier Whorley and a 47-yard toss to Jha-Liel Harden in the third. Prince added a 77 yard keeper late in the first half that sent Hidden Valley to the break trailing 28-7.
Whorley also scored on a 13-yard run to open the scoring, with Patriot Nick Ollie finding the end zone on runs of 4 and 26 yards.
Hidden Valley was led by QB Michael Simonic, who threw for 139 yards including a third quarter TD strike to Dee Fletcher. Simonic also scored on a 2-yard keeper after an acrobatic catch by junior wide receiver Jake Kite set Hidden Valley up deep in Patrick Henry territory early in the second quarter.
"We just had too many first-game mistakes," Titan head coach Scott Weaver noted. "You can't do that and win, but these are things that are correctable."
Patrick Henry entertains Bassett this Friday night at Gainer Field. Hidden Valley looks to regroup as William Byrd visits Bogle Stadium this week.