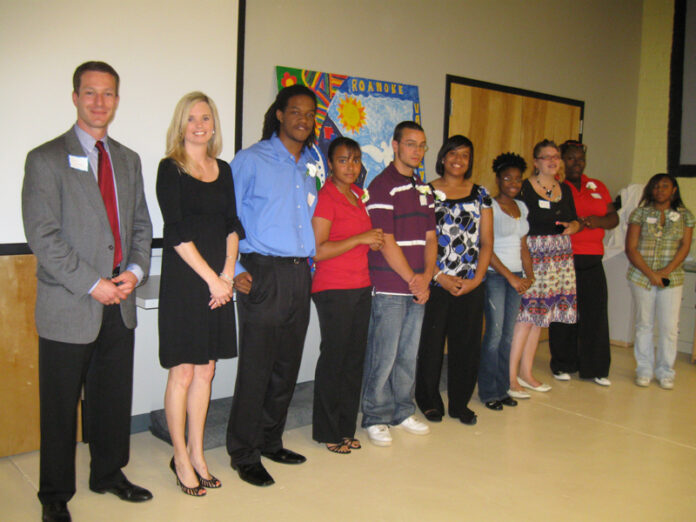 Family Service of Roanoke Valley (FSRV) presented the 20th annual Teen Outreach Program Plus (TOP Plus) Positive Action Banquet on Tuesday, May 25 at Straight Street Youth Center. The celebration honored the contributions that over 200 Teen Outreach Program Plus student volunteers have made to the Roanoke community during the 2009-2010 academic year.
Nine of this year's youth volunteers were honored at the banquet for their community volunteerism, and class rings were presented by the Junior League. Roanoke Mayor David Bowers and local school and after-school partners took part in the recognition ceremony.
TOP Plus, which enrolls both Roanoke City and County students, utilizes leadership development classes and community service to help lead teens toward productive decisions and positive behaviors. The number of students who participate has doubled since the program began 20 years ago.
Youth participating in Teen Outreach Program Plus have completed a minimum of 20 hours of volunteer work in the community. Students took part in the Martin Luther King, Jr. Day of Service and planned the program's local Global Youth Service Day event, which is the largest volunteer initiative in the world. This year's event saw the completion of over 20 service projects throughout the Roanoke Valley and involved over 700 youth volunteers.
The Junior League of Roanoke Valley started the Teen Outreach Program in Roanoke in 1990, when the City of Roanoke led Virginia with a teen pregnancy rate of almost 10%.  This year Roanoke's teen pregnancy rate has declined to about 6%, but is still fifth in Virginia.  The Junior League remains committed to the program, its participants and its youth development goals.
TOP Plus students have had the opportunity to work with community mentors, and from those experiences have in turn become mentors for younger students. They have been enthusiastic in their work with preschoolers, their own peer groups and with Roanoke Valley's aging population. During the first semester of the academic year, the students facilitated a service activity, the first of many inter-generational projects that addressed the safety concerns of senior homeowners.
Youth who engage in service learning opportunities have been found to develop such positive skills as goal setting and healthy decision-making.  Outcomes include: improved school attendance, grades and attitudes toward school; enhanced personal restraint regarding use of substances and other problem behaviors like fighting; and increased levels of interest in civic responsibility.
The significant expansion of this program has been made possible through the support of the United Way of Roanoke Valley, the Virginia Foundation for Healthy Youth, the Virginia Department of Health, the Governor's Office on Substance Abuse Prevention, Safe and Drug-Free Schools Community Act funds, the Junior League of the Roanoke Valley, State Farm Insurance Companies, Carilion Clinic, the City of Roanoke, Cox Charities and donations from other private sources.
For more information on Family Service of Roanoke Valley's Teen Outreach Program Plus or to volunteer to be a mentor, please contact Sarah Jane Lawrence at 563-5316 or at [email protected]