Having a clean, safe, and welcoming downtown is the foundation of a great city and Roanoke's Downtown Ambassador Program has marked its 6 month of progress. During this time, Ambassadors have made great strides in the ongoing improvement of Downtown Roanoke making it an even better destination for residents, employees, and visitors.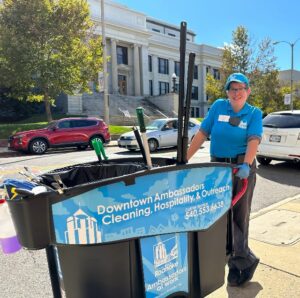 Downtown Ambassadors serve as extra eyes and ears on the street, clean and improve public spaces, welcome and assist the public, reach out to those in need and help connect them with services, connect regularly with downtown businesses, and more. Roanoke's 9-person Downtown Ambassador team is present 6 days a week providing nearly 300 hours of weekly service.
Over the past 6 months Ambassadors have accomplished a lot. Below are a few highlights:
Clean Activities:
41 power washing projects completed
54 backpack blower and billy goat hours completed
283 biohazard clean ups
310 block faces weeded
824 handbills, stickers, and graffiti removed
1,136 small bulk trash items removed
1,257 bags of litter collected
1,745 small clean up jobs completed
2,797 scooters relocated
Hospitality Activities:
553 hospitality assists, directions, and escorts provided
Outreach Activities
108 outreach referrals
671 outreach contacts
222 business contacts
391 safety checks
The team has also worked on a number of special projects such as painting downtown fixtures and event support. These projects will expand in the Spring.
The Ambassador Program is administered by Block by Block, a company that serves more than 120 urban districts, parks, and transit systems across the United States, and managed by DRI. The program is funded with significant investment from DRI, City of Roanoke, Roanoke Foundation for Downtown, Inc., Visit Virginia's Blue Ridge Foundation, and other downtown stakeholders.
This program is a community-wide effort and DRI has secured funding for the first year and continues to actively seek additional funders to ensure the program continues forward. To learn more and find out how you can get involved, contact Tina Workman at [email protected].