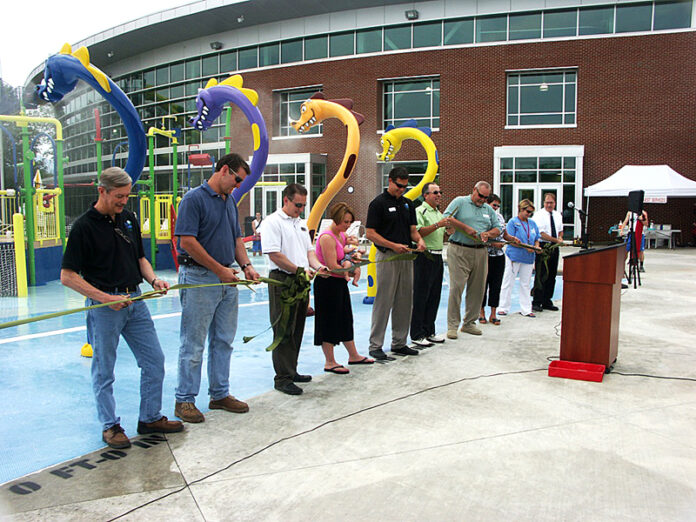 With the Green Ridge Recreation Center already a big hit – more than 7000 members have signed on since it opened the doors in North County – did anyone doubt that the reception for the outdoor water play park, Splash Valley, would be any different?  Roanoke County officials cut the ribbon last Friday, as dozens of children fidgeted eagerly, waiting for the speeches and platitudes to end.
Then it was everybody in the Splash Valley pool, which features two slides and tubes that end up in the water. Roanoke County Fire and Rescue Chief Rick Burch had the honor of making the first run down one slide that ends in a cone-shaped contraption, spinning people around several times before they are dropped into the water.  "A good ride," said Burch after he made his way out of the pool.
"We're very excited to bring this type of facility to the Roanoke Valley," said Roanoke County Parks, Recreation and Tourism Director Pete Haislip.  "It's going to be an exciting summer."  In addition to the new outdoor water attractions, the Green Ridge Center has indoor pools as well.
Haislip praised the teamwork among county departments in helping to make sure Green Ridge and Splash Valley came together at the $31 million facility. "It has a lot of exciting components," said Haislip, noting that 1000 people a day – including those non-members who just drop in – are now showing up.
Haislip also called Splash Valley, which will remain open through Labor Day, a "destination attraction," on a regional basis. "This is a place you would plan to come… with relatives or visitors."  He said Splash Valley and Green Ridge would be one of the places visitors to the valley will want to experience, after going to the Mill Mountain Star and downtown.
"I think the reason Green Ridge has been so successful is because it's been oriented towards families," said County Administrator Clay Goodman. "It's filling a need or a void [for entertainment]."
Catawba supervisor Butch Church couldn't contain his enthusiasm, after first noting that there were doubters when the Green Ridge price tag was first announced: "Splash Valley is becoming the place to be. This place belongs to the citizens [and] they'll be lined up out to the parking lot."
Church said county residents are already asking about building another recreation center elsewhere – perhaps in southwest Roanoke County.  "The future will tell the story [on more centers]," said Church. Already Green Ridge has covered its operating expenses. "This place will be like a [busy] bee hive," he predicted.
County residents can get in for $7, $6 for children and teens; those 55 and up are $5. Non-county resident admissions to Splash Valley are $2 higher across the board.
Visit roanokecountyparks.com for more information.
By Gene Marrano
[email protected]