Keep gardening longer with less muscle strain and fatigue with these pain-free gardening techniques. You'll not only keep your garden looking its best but also make it a more enjoyable experience.
Keep tools handy to reduce the number of trips from the garden back to your garage or shed.  A garden tool bag or bucket with a wrap-around tool organizer works well for small hand tools. Purchase a mobile garden tool caddy or convert a discarded wheeled golf bag, shopping cart, or wheeled trash bin into a tool caddy for long-handled tools. These make it easier to keep them handy as you move from garden to garden.
Store small tools right in the garden. Install an old mailbox in your garden filled with your favorite small hand tools and gloves.  Then add a little paint or cover it with a mailbox planter or vine to make it an attractive and functional part of your landscape.
Keep tools clean and sharp. Regular maintenance will extend their life and improve their efficiency. It can also help reduce the risk of spreading disease.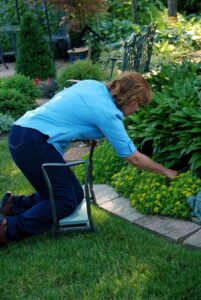 Invest in ergonomic tools when replacement or new tools are needed.  They have larger and softer handles for easier, less stressful gripping.  Many are designed for the proper positioning of your body to reduce joint stress and fatigue.  Longer handles extend your reach and help you retain good posture.  Consider purchasing ratchet-type pruners designed to give you more cutting power with less effort.
Use wagons, carts, or old snow saucer-type sleds for moving heavy items to the garden. You'll need to make fewer trips, reduce muscle strain, and save energy when moving mulch, potted plants, and other items.
Divide heavy loads into smaller increments. You may need to make more trips, but it will be easier on your back and knees.
When shoveling, be sure to stand upright and take small scoops. Remember to pivot your body rather than twisting when emptying the load. Switch sides and take frequent breaks to reduce the risk of muscle strain, and fatigue.
Protect your knees with kneelers or wrap-around kneepads.  No matter your age or physical ability you will benefit now and in the future by protecting your joints when gardening.  These gardening accessories also reduce the pain and pressure on your joints.  Kneelers with built-in handles make moving up and down easier, allowing you to garden longer.
Include a pair of safety glasses in your tool caddy. It is too easy to end up with a stick in the eye when pruning and working around trees and shrubs.
Take time to warm up before digging in. Gentle backbends and lunges are great ways to engage your muscles. Adjust your gardening activities to the weather. If it's cold, try waiting for the weather to warm. If you are stiff in the morning, try gardening a bit later in the day.
Garden for shorter periods and try to take breaks every 15 to 20 minutes. Consider adding a few benches to the landscape to encourage you to sit, relax and enjoy your handiwork.
Wear gloves to protect your hands from cuts and bruises.  Gloves also keep your hands warm and provide support as you dig, pluck and prune.  Find a good-looking comfortable pair that you are likely to wear.
Protect your eyes and skin from sun damage.  Wear a hat, sunglasses, and sunscreen.  You'll avoid sunburns and protect your skin from long-term damage.  Keep yourself hydrated by drinking plenty of water as you garden.
Including these strategies in your gardening efforts can make gardening even more beneficial and enjoyable.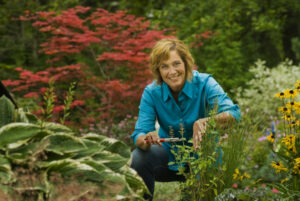 Melinda Myers has written more than 20 gardening books, including the recently released Midwest Gardener's Handbook, 2nd Edition and Small Space Gardening. She hosts The Great Courses "How to Grow Anything" instant video and DVD series and the nationally syndicated Melinda's Garden Moment TV & radio program. Myers is a columnist and contributing editor for Birds & Blooms magazine and her website is www.MelindaMyers.com.