Maybe the time was right for a breakout game. Maybe it was the total team buy-in on execution. Maybe it was the pink worn by the student section, not too mention the conspicuous pink-ribbon pants worn by two coaching members on the special coaches versus cancer night in the gym.
Regardless, the result was the Cave Spring basketball team putting on a virtual clinic Tuesday night on their way to overwhelming the visiting Christiansburg Blue Demons 81-41 in a River Ridge District matchup.
To say the Knights were clicking on all cylinders coming out of the gate would be the understatement of the night. They rolled out to a double-digit lead before the Demons found the scoreboard, using a furiously accurate offensive attack and swarming defense that kicked into high gear once Christiansburg reached mid-court. Cave Spring led 21-7 after one quarter.
Cave Spring head coach Jacob Gruse sports the 'pink-ribbon' Loudmouth pants worn Tuesday night in conjunction with Coaches versus Cancer.
The Knights kept the hammer down and essentially put the game away in the second. Using its defense to generate rapid-fire scoring opportunities, the Knights' score ran into the 40s before the Demons scored their first basket of the quarter with under 3 minutes left. Cave Spring, already well into its bench, finished on another late run to head to the halftime break up 56-14. They had thrown down a nifty 35 points in the second frame.
"We used multiple options and lineups tonight because we have to have those options to make us good," Cave Spring head coach Jacob Gruse noted afterward.
With Cave Spring up by 42 points, the 30-point disparity rule took effect, meaning a continuous running clock throughout the final two quarters. While Gruse and his Christiansburg counterpart Kevin Cox used their benches generously to gain experience for all players, both teams hung tough in the final 16 minutes. Cave Spring led 70-23 after the third quarter, before settling the final margin at 81-41.
One exceptional sidebar for Cave Spring was all 12 of its players found the scorebook.
"All twelve scored, isn't that awesome?" Gruse said. "I love it. They worked hard and all twelve deserved it."
With such balanced scoring, Kam Tinsley led the Knights with a game-high 14 points. Senior guard Graham Lilley followed with 13 points, while junior guard Cam Parker netted 10 points for the Knights.
'I thought Kam Tinsley was really good tonight," Gruse observed.
Cave Spring junior Kam Tinsley leads the offense Tuesday night on his way to a game-high 14 points in a game that saw all twelve Knights reach the scoring column.
Cave Spring's inside-out motion offense was in high gear, resulting in twelve hits from behind-the-arc, and none more receptive by the Cave Spring 6th-man student section than when senior JaSean Robinson inked his spot in the scoring column when he hit from long-range just before the final buzzer.
"Student section was amazing as always….our 6th man," Gruse pointed out.
Senior guard Blake Gandee led the Demons with a team-high 13 points, while sophomore guard Ian Velickovic poured in 10 points for Christiansburg.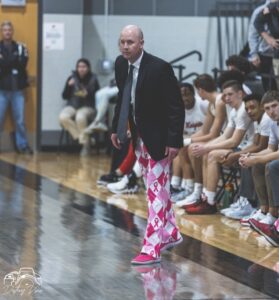 For over 25 years, the Coaches vs. Cancer program, in collaboration with the National Association of Basketball Coaches, has united coaches and fans nationwide to help the American Cancer Society defeat a common enemy – cancer. Cancer has been especially tough at Cave Spring, affecting numerous outstanding students, faculty and family members throughout the years.
Tuesday night, Gruse was joined by Coach Turner in wearing specially designed "pink-ribbon" pants obtained through Coach Turner's association with Loudmouth Golf. After the final buzzer, both teams joined hands at center court as did both coaching staffs to show unity in the fight against cancer.
Next up for Cave Spring (14-3) will be a trip to Patrick Henry on Friday night with the River Ridge District regular season lead up for grabs.
"We're all focused now on Friday," Gruse added.
– Bill Turner