Imagine a gathering of the most innovative and prominent scholarly researchers who are offering their intelligence, experience, and time. That describes the Rural Education Summit, held at The Inn at Virginia Tech and Skelton Conference Center on Aug. 26, which officially launched the new Center for Rural Education.
As the founding director of the center, Amy Price Azano, an associate professor in the School of Education in the College of Liberal Arts and Human Sciences, organized the summit with Rachelle Kuehl, also in the School of Education and a research scientist in the center, to bring together local and regional educational leaders and Virginia Tech researchers with nationally known rural education scholars and advocates. "The summit highlighted the complex nature of rural schooling while giving folks at the university and across the country an opportunity to network and build partnerships," said Azano.
The center is anchored in the Institute for Society, Culture, and Environment (ISCE). Its goal is to take a transdisciplinary approach to address complex educational, societal, technological, economic, health, and environmental challenges with the aim of promoting educational equity in rural schools and communities. This mission is already well on its way as academics in varying fields of scholarship and from all over the country voiced their support and excitement for the new center during the summit, which was sponsored by Outreach and International Affairs.
Having devoted her career to promoting diversity, equity, and inclusion in education, Azano has cultivated a reputation and invited esteemed colleagues who were willing to contribute their scholarly knowledge at the summit. "These are the experts and community partners who have developed programs that have worked in various communities," said Azano of those participating in the summit's panel discussions.
During the welcoming remarks, Guru Ghosh, vice president of outreach and international affairs, and Cyril Clarke, executive vice president and provost of Virginia Tech, both underscored the important role the Center for Rural Education will have on our democracy and to the ideals of Virginia Tech. "We are absolutely committed to this center because it is our role as a land-grant university," said Clarke.
In his keynote address, Allen Pratt, executive director of the National Rural Education Association, said, "I can't put into words what this means." His support for the center was evident when he announced that the center will be fully endorsed by his organization.
Another keynote speaker, Keith Perrigan, president of the Coalition of Small and Rural Schools of Virginia and division superintendent of Bristol Virginia Public Schools, shared some of the successful innovative programs he has implemented in Southwest Virginia such as partnering with the United Way and offering telehealth to students during school.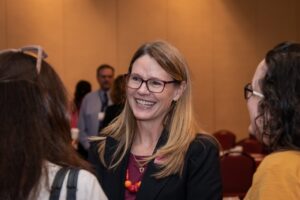 The topics in the panel discussions included current issues in rural education such as academic diversity, community engagement, community health and wellness, historically marginalized populations, and policy and economics. Virginia's superintendent of instruction, Jillian Balow, and deputy executive director with the Virginia Association of School Superintendents, Amy Griffin, discussed rural efforts in Virginia.
The following scholars from around the country shared their research experiences at the event:
Jayne Downey, director of the Center for Research in Rural Education at Montana State University
Catharine Biddle, associate professor of educational leadership at the University of Maine
Darris Means, associate professor of education, and Thomas Farmer, professor and chair of education in the Department of Human Development, both at the University of Pittsburgh
Alex Red Corn, assistant professor of education and educational leadership coordinator for Indigenous Partnerships at Kansas State University
Devon Brenner, director of the Social Science Research Center at Mississippi State University
Kristina Hesbol, director of the Center for Innovative Rural Collaborative Leadership Education at the University of Denver
Kristen Cuthrell, professor and director of the Rural Education Institute; Jerry Johnson, Dail Distinguished Professor of Education Phoebe Moore, and Crystal Chambers, professor, all in the School of Education; and Loni Crumb, assistant professor in the counselor education program, all at East Carolina University
Maria Coady, the Goodnight Distinguished Professor in Educational Equity at North Carolina State University
During lunch, the Lua Project provided lively Mexilachian music, and Estela Knott, a member of the group, participated in the panel discussion about historically marginalized populations. Part Mexican and part Scots-Irish, Knott grew up in rural Luray, Virginia, and spoke of her struggle with identity and the purpose of the Lua project, which is to help multicultural children to be proud of their cultural heritage.
While many scholars from around the country came to share their experiences and give Azano their support, there were also many eminent researchers from Virginia Tech with whom Azano hopes to collaborate with further at the new center. These included Scott Tate with the Center for Economic and Community Engagement, Angela Scarpa and Jennifer Scott with the Center for Autism Research, Tameka Grimes and Shannon Roomsa with counselor education, Kathy Hosig with the Center for Public Health Practice and Research, Chuck Lowery with Educational Leadership and Policy Studies, and Karen Eley Sanders with the College Access Collaborative.
"I was so proud to showcase Virginia Tech's deep commitment to rural education," said Azano. "The center is not just one person or one unit's passion project but rather a broad, institutional response to the challenges and opportunities in our rural schools and communities."
Susan E. Short, associate vice president for engagement in Outreach and International Affairs, facilitated the last panel discussion, which highlighted exemplars of community engagement from the Reynolds Homestead, TRIO Programs, 4-H, Roanoke Regional Initiatives, and the Summer Enrichment Experience at Virginia Tech. Before she handed the floor back to Azano for closing remarks, she made a surprise announcement: Ghosh said that Outreach and International Affairs would be making a contribution to the Center for Rural Education in the amount of $100,000.
"The center has the potential to build partnerships and leverage resources across the university to make a broad and significant impact in the region and beyond," said Azano. "I'm eager to roll up my sleeves and get to work!"