Maggie Thomas and Gil Houston are scouring the backwoods of Southwest Virginia for an elusive and helpful predator that hasn't been seen in the state for over 30 years. Julia Coan is discovering that the uncommon green salamander exists farther to the east in Virginia than previously known. And Nathan Ferguson is finding more efficient ways to collect fish for experiments.
For students in Virginia Tech's College of Natural Resources and Environment, summer field research is not only about hands-on learning, it's also about making a contribution to conservation knowledge. With their investigations of pinesnakes, green salamanders, and minnows, these undergraduate students in the Department of Fish and Wildlife Conservation are already making an impact in their field.
"The animals are cool and we want to learn about their natural history, but the main benefit is seeing what we're doing for the students and their career preparation," said Assistant Professor Kevin Hamed, who is directing the students' research. "Whatever your interest — fish, snakes, amphibians — our department can offer opportunities for students to research something they care about."
The pinesnake (aka bullsnake) is a non-venomous ground-dweller that helps control rodent populations and small animals that carry tick-borne disease. The last time it was spotted in Virginia was in 1989. But seniors Maggie Thomas and Gil Houston believe they can change that.
"Finding this snake would be a breakthrough," said Houston, a wildlife conservation major from Salem, Virginia. "If we can find their habitats and understand their distribution and behavior, we can help conserve them as important natural predators of rodents and other small animals."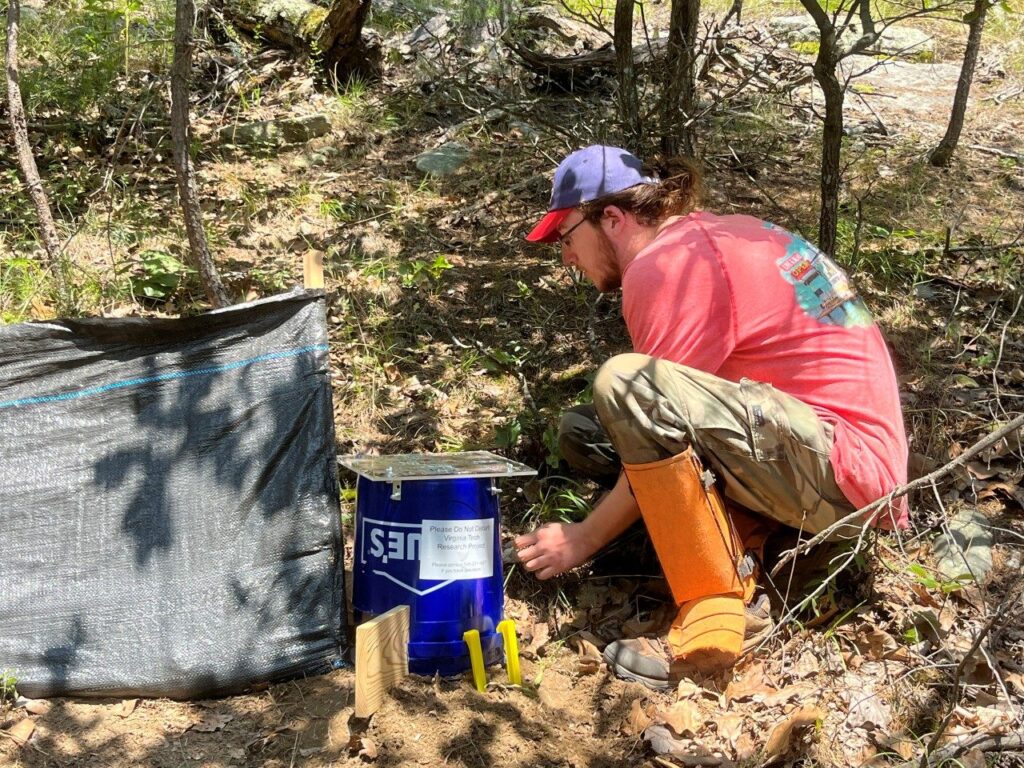 Their work, funded by a grant from the Virginia Department of Wildlife Resources, is providing an intensive — and sometimes grueling — exposure to field research. After identifying the best potential habitats for pinesnakes using satellite imagery, Houston and Thomas hike for hours into the woods of Roanoke and Craig counties, where they set up and check elaborate, non-invasive traps designed to photograph the snakes.
The contraptions consist of a series of drift fences that guide the snakes toward 5-gallon buckets affixed with motion sensor cameras. As the snake passes through holes in the bucket, a motion sensor camera snaps its photo. The students have also placed cover boards in prime spots, with the hope that pinesnakes will seek shelter beneath them.
"I have always had an interest in reptiles, especially snakes, since I was very young," said Thomas, a wildlife conservation major from Frederick, Maryland. "Snakes often get a bad rap, and through this project we can spread awareness of the importance of this particular snake and encourage more people to view these creatures in a positive light."
The students are also spreading awareness with flyers and a website that explain their research and encourage people to report pinesnake sightings.
Only weeks into their research, their efforts have attracted many timber rattlesnakes, copperheads, lizards, chipmunks, skunks, rabbits, and a few curious black bears who stuck their paws into the buckets.
"Each day we have the motto, 'Today's the day,'" said Hamed. "We just have to be patient. We are sampling in great habitat and tracking down public leads. These snakes are incredible members of our ecosystem and I would like to think that they still exist in Virginia."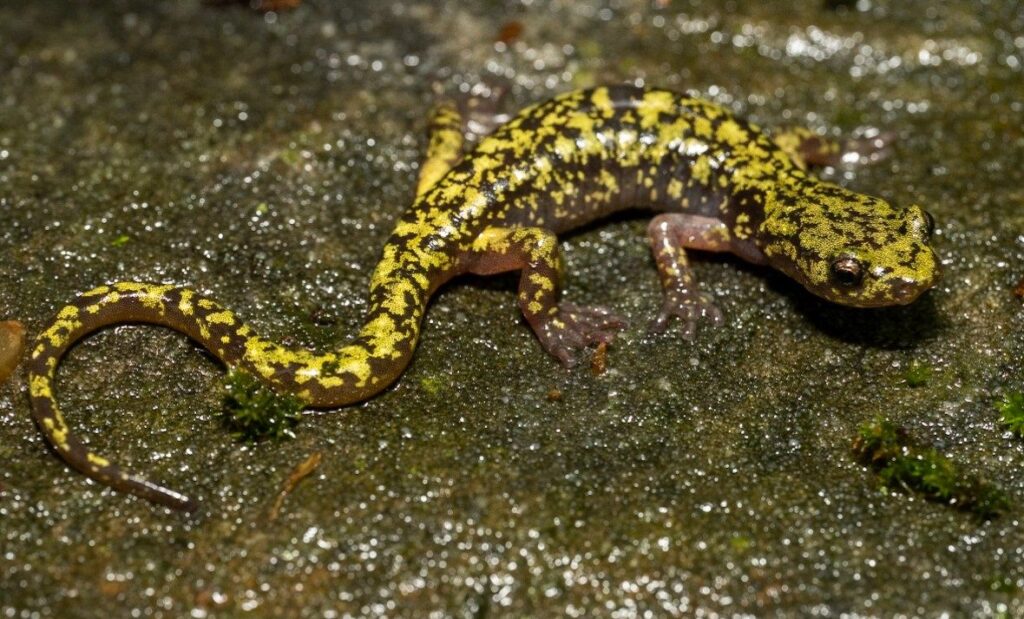 Meanwhile, in the forests and damp rock crevices of the New River Valley, senior Julia Coan has discovered an expanded range for the green salamander, a "species of greatest conservation need" in the Virginia Wildlife Action Plan.
Coan's research has identified green salamander populations much farther east in the state than previously known. Using digital elevation models from LiDAR (light detection and ranging) to identify suitable habitats, Coan and her research mentor, Charlie Holguin, hike out to these sites, aiming flashlights to locate salamanders in dark rock crevices.
"Not much is known about this species, as they live in rock crevices in the middle of forests, so they are not easily accessible," said Coan, a dual major in wildlife conservation and biological sciences from Herndon, Virginia. "Knowing where a species is located is the first step to conserving it. This research will hopefully alert the state to new populations that need protection."
Her research is funded by a Multicultural Academic Opportunities Program (MAOP) Undergraduate Summer Research Internship that provides graduate-level research experiences to undergraduate students such as Coan. Holguin, a master's student in the Department of Fish and Wildlife and MAOP graduate assistant from El Paso, Texas, has served as Coan's advisor and mentor. Now that they've found hospitable locations for the green salamander, they hope to expand their search into the trees to investigate the salamanders' arboreal lives.
"Something I have come to appreciate from this research is that rock outcrops are full of life," said Coan. "They harbor a multitude of various species. Even if we don't find a green salamander, there are so many other species including other salamanders that use them."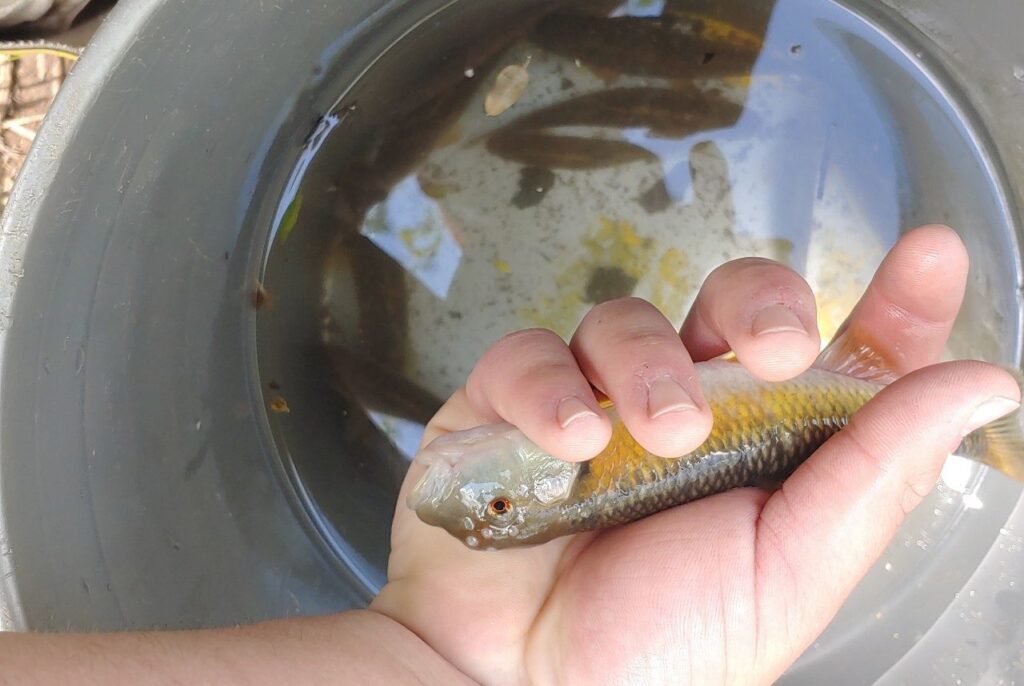 Her classmate, fellow senior Nathan Ferguson, is exploring various pools in Tom's Creek in search of the most effective bait for trapping minnows.
"What drew me to this project is the fact that minimal research has been conducted on this topic," said Ferguson, a dual major in wildlife conservation and fish conservation from Glade Spring, Virginia. "The primary way fish are collected today is electroshocking or capturing with a net. Electroshocking is a difficult process that can result in damage to the fish. Netting fish is safer but more time-consuming. My research could help show that future professionals can collect specific fish species humanely and efficiently by using a certain type of bait."
Ferguson is trying out four baits — white bread, dry cat food, beef liver, and hard-boiled eggs — in four pools along Tom's Creek. Throughout the year, he's placing traps with the baits out simultaneously for an hour and recording how minnows respond to them as conditions like temperature, spawning, maturity/life history, and time of year change. All fish are returned safely to the water.
"So far, it's been cool to see that some of the meat-based baits [beef liver and hard-boiled eggs] are collecting fish well, versus the classic baits [cat food and white bread]," Ferguson said. "It's an early indication that this research may work out according to my predictions. The end result will be determining if, over a year, certain species of fish switch bait types. "
Ferguson hopes that the project will be carried on by other students after he graduates.
"Our faculty and graduate students are committed to the engagement of undergraduates in the research process," said Joel Snodgrass, professor and head of the Department of Fish and Wildlife Conservation. "This type of experiential learning really takes students beyond the classroom to learning in the real world and makes them much more competitive for graduate school positions and jobs when they graduate. These students are differentiating themselves from the crowd and creating memories they will share for a lifetime. That's why in our department and college we place such a high premium on all forms of experiential learning."
– Krista Timney