It was dumb luck the three of them were there when it happened. (Editor's note: Or was it?)
Kira Turner is a graduate student at Liberty University in Lynchburg, VA, working on her M.S. in exercise science. She is a certified athletic trainer, and serves as an intern in Liberty's athletic department, which requires a trainer on the field for all university athletic events. Liberty's men's club lacrosse program recently hosted a tournament including visiting teams from Indiana and Clemson. Days before the event, Kira got the call; she was the very last trainer available on campus, so she was assigned responsibility for the game. It was her first time covering lacrosse.
Harris Jaffe is a survivor of the shootings at Marjory Stoneman Douglas High School in Parkland, FL. He is a fair lacrosse player, and plays club ball at Indiana. He apparently had been considering giving it up, because when the team bus was ready to leave Bloomington for Lynchburg, Harris wasn't on it. His coach reluctantly held the bus for a few minutes longer, and eventually Harris arrived and got on board. Oh, one other thing: Harris Jaffe is a certified EMT.
John Holcomb is from Cincinnati, OH, and has an older brother who played club ball at Furman. John joined him there, and they played on the team together as senior and freshman, before Furman shuttered the program. Undeterred, John transferred with eight other players to Clemson. John is a lefty attack finisher who throws such tricksy passes that his teammates call him, "Special Agent 0" for the number on his jersey.
That brought them all to the same field on Saturday, March 12, at about 2PM, with Clemson leading Indiana by a score of 10-3. Then the unthinkable happened. As Clemson's team whipped the ball around in a man-up situation, their coach noticed that something was wrong. John Holcomb wasn't making his prescribed cut. Seconds later, he collapsed on the field. He had had a seizure. He was non-responsive. He had a faint pulse. He wasn't breathing.
Kira was there in a flash, and quickly determined that John needed chest compressions. But first she needed to get him on his back, and clear his airway. And right then, Harris arrived, having sprinted in from the sidelines to help his fallen opponent. He helped roll John onto his back, and then maintained order among the frantic players and parents who crowded the scene. Kira did as she was trained to do, and was able to restore John's breathing before the ambulance arrived. John was safely moved to a Lynchburg hospital, where it was determined he hadn't suffered significant damage. Early tests suggest he has a mass on his brain that caused the seizure that will need to be removed in the coming days.
Now, the good folks at Liberty might want to credit Jesus for this divine intervention. But this being lacrosse, I would also offer that the Creator might have had something to do with it. Either way, it was disaster narrowly averted. (Editor's note: Theologically speaking, most Christians who would credit Jesus would, of course, be crediting the Creator.)
The lacrosse Twitterverse is passing the story around. And all fingers and sticks are crossed, hoping and praying for a complete recovery for Special Agent 0.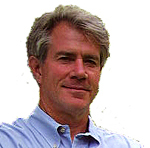 – Mike Keeler