Like with everything in her life, when it came to being a Virginia Tech fan, Nancy Lucas went all out. Whether it was wearing Chicago Maroon and Burnt Orange every Friday before game day, yelling her support during a key play (even on the road in Charlottesville), or driving to Blacksburg in the wee hours to greet a victorious team bus at Cassell Coliseum, Nancy was a Hokie through and through.
It was in honor of Nancy's passion in life that her sister, Susan Lucas, established the Nancy Lucas Memorial Hokie Physician Scholarship at the Virginia Tech Carilion School of Medicine. Nancy Lucas unexpectedly passed away at age 55 in 2014. The scholarship now continues her support of Hokies as it is awarded to Virginia Tech graduates who enroll at the School of Medicine.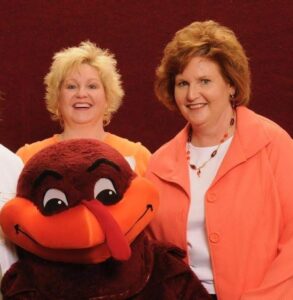 "My sister was an amazing, compassionate health care professional and a fervent Hokie fan, in addition to being my best friend," Susan Lucas said. "It was very important to me to continue her legacy by assisting a Hokie graduate to become a physician that will perpetuate her passion."
Nancy Lucas was a member of the last graduating class of Salem's Andrew Lewis High School in 1977. She was a graduate of Radford University, University of Virginia School of Nursing, and received her certification as a Wound, Ostomy, and Continence Nurse (WOCN) from Emory University in Atlanta. She worked as a nurse at LewisGale Medical Center in Salem, where she is remembered fondly for her heartfelt patient care.
Alexandra "Ali" Toloczko, Class of 2025, is the first recipient of the Nancy Lucas Scholarship and is proud to have Virginia Tech roots.
"I am a second-time, and second generation, Hokie! My dad was a Hokie, my boyfriend was a Hokie, and his dad was as well, so you could say it runs in the family," Toloczko said. "Returning to Virginia Tech, after leaving for a hiatus in Texas, has felt like coming home. At Virginia Tech, I obtained a degree in chemical engineering, an interest which I am now able to pursue through analytical thinking and research as a future physician."
Toloczko aspires to be a physician innovator, coupling her knowledge of engineering with her medical education to ultimately, like Nancy, improve patients' lives.
"Before coming to VTCSOM, I attended Rice University and obtained a master's degree in bioengineering with the Global Medical Innovation program. Unfortunately, I also obtained student loan debt. Although financial independence is important to me, it comes with the added burden of paying for school," she said. "This scholarship allows me the flexibility to pursue my passion in medicine with less financial burden, a gift which I am very grateful for. Someday, I hope to be able to pay the scholarship forward, but for now I hope that I can show Ms. Lucas my gratitude by working diligently to follow my dream to innovate the future of medicine."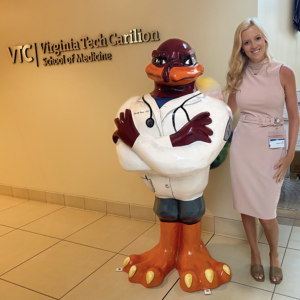 Nancy was living in Florida when Susan Lucas was diagnosed with breast cancer in 2004 and she decided to move back home to support her sister. Though they were not particularly close as children, the pair bonded over the Hokies and were soon inseparable, attending every home football game together as well as multiple bowl games. They also traveled to craft shows together, selling Hokie-related jewelry that Susan Lucas crafted with her Go Tech Go! Designs business.
Today, Susan fondly remembers the special years she spent with Nancy and all their adventures cheering on Virginia Tech. She is proud that Nancy's legacy will live on in support of Hokies pursuing worthwhile careers in health care.
"It has been exciting to see the evolution and growth of VTCSOM and the amazing students that I have met through serving on the Multiple Mini Interviews admission process," Susan said. "These graduates have a personal approach, in addition to medical expertise, that reminds me of Nancy's deep dedication to her patients."
To support students at the Virginia Tech Carilion School of Medicine on Giving Day, please click here. For more information on donating to the Virginia Tech Carilion School of Medicine, please contact Alicia Besenyei.