Wood, granite, steel, and even concrete can tell a story.
In the past four years, Matt Pearson, a Virginia Tech alumnus and architect, has carved a unique niche telling the stories of United States military heroes through architecture.
His second and newest monument design, unveiled on Sept. 11 at Fort Bragg, North Carolina, honors the work of a U.S. Air Force Special Operations unit — the 24th Special Tactics Squadron. The squadron is an elite special operations military force that solves air and ground problems across conflicts and crises.
After extensive research into the unit's mission and history, Pearson '00, who is an architect at RATIO, a design firm in Raleigh, North Carolina, crafted plans for a circular monument, measuring 80 feet in diameter and made with 80,000 pounds of laser-etched granite. The granite will display photos and words that describe the unit's history and evolution, including wars and special missions.
Other sections of the monument will recognize those killed in action or training and those who served with distinction.
The focal point of the monument will serve as a gathering place for memorials, retirements, and special occasions and be a place to reflect on the heroes who lost their lives serving.
Pearson estimated that the $1 million monument will be completed in about 18 months.
"It's incredibly important to connect emotionally with the viewer and with those that move in and around the space," said Pearson, who designed a Navy SEAL Monument in Virginia Beach in 2017. "You're representing lives sacrificed in the name of freedom, and you're telling stories of valor and honor. Symbolism is important."
Of the materials used in the monument, one holds particular significance. A piece of a steel beam recovered from the World Trade Center Towers in New York City, after they fell during the Sept. 11, 2001 terrorist attacks, will be incorporated into the design. A small portion of the steel will be melted down and recast into the 24th Special Tactics Squadron's logo, visible upon entering the monument.
Last month, Pearson, along with representatives from the Air Force, received the 36,000-pound piece of steel during a dignified transfer ceremony where the New York City Fire Department gave the steel to the U.S. Air Force. They draped a U.S. flag across the steel piece.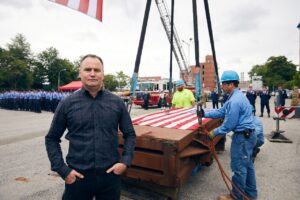 The rusted steel holds a special meaning for Mike Rizzuto, who is executive director of the special operations unit once named Brand X. Rizzuto also established and serves as chairman of a nonprofit, called The Association.
Rizzuto was a member of the Special Operations Forces on Sept. 11, 2001 and was deployed to Iraq and Afghanistan.
"The importance for us is to never forget," he said. "We have some unit members who were very young; some were toddlers when 9/11 happened. This will allow them to reflect on what their predecessors are doing today."
Plus, the monument, which will feature the Brand X name in the design, will serve a need on the Fort Bragg campus.
"We didn't really have a place on our campus that honored the sacrifices of our men and women," Rizzuto said.
Rizzuto said he learned of Pearson's work on the Navy SEAL monument, which recognizes soldiers and war dogs killed in action, and approached him with the idea for the Special Operations monument.
Pearson has a personal connection with the military. His father is a retired Navy captain, and Pearson grew up on three military bases, including one in Iceland.
He said his connection to the armed forces makes his memorial work even more important.
"These monuments, you have to take them very seriously," said Pearson, whose monument design work is pro bono. "You're using architecture to carefully and thoughtfully tell a story to your fellow Americans, and that includes lives sacrificed in the name of freedom. This has to pass muster for our servicemen and servicewomen as well as civilians."
Pearson credited his Virginia Tech education in the College of Architecture and Urban Studies as a key to his ability to understand and use different art forms and materials and appreciate how people move through space. He also learned to approach design with reason and logic.
"Virginia Tech was instrumental in being able to talk intelligently about your work," said Pearson, who is married to a fellow Hokie and architect, Jessica Pearson '96. "Without a doubt, the architecture program is one of the best in the world."
By Jenny Kincaid Boone