A young Canada Goose was recently rescued after flying into the top of Virginia Tech's 85 foot high drone testing cage and getting stuck in the netting. The unique rescue took several hours, two cherry pickers (first one was too short), and several VT staff members.
Eventually, the distressed bird was carefully removed and lowered to the ground where SW Virginia Wildlife Center Staff Naturalist (and current Hokie) Haley Olsen-Hodges was patiently waiting.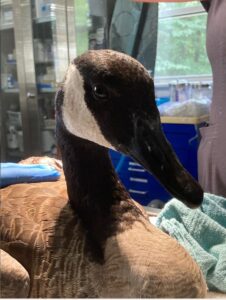 The goose sustained injuries to both wings and one leg but has made a full recovery but the patient's injuries would've quickly grown worse without quick action and immediate response.
The Wildlife Center will be releasing the High Flying (yet somewhat wayward) Hokie Bird  at Virginia Tech on Thursday, September 9th at 4:30 p.m. The release will take place at the Virginia Tech Duck Pond near the gazebo. Haley Olsen-Hodges will be conducting the release.