The Virginia Smart Roads facility now features a rural test track, enabling the Virginia Tech Transportation Institute (VTTI) and its partners to begin a new phase of advanced vehicle testing.
The Rural Roadway Expansion, which was unveiled by Virginia Tech, VTTI, and the Virginia Department of Transportation (VDOT) on Nov. 19, is the first research facility created to test automated driving systems and other next-generation technologies in a rural setting.
"The groundbreaking research conducted by the institute and its industry and government partners plays an important role in advancing Virginia Tech's portfolio, and its research and innovation leadership," said Virginia Tech President Tim Sands, during his remarks at the ribbon-cutting ceremony. "The Rural Roadway Expansion will help to ensure that the vehicles of the future are prepared for the roads that serve rural areas."
The ribbon-cutting ceremony was held on the test track and attended by a small, physically distanced group of officials and leaders from across the university, state government, and the automotive industry. Guest speakers included Sands; Catherine McGhee, director of research and innovation, Virginia Transportation Research Council; Daniel Sui, vice president for research and innovation, Virginia Tech; Don Taylor, executive vice provost, Virginia Tech; Tom Dingus, director, VTTI; and Myra Blanco, director of advancement, partnerships, and outreach, VTTI.
"In Virginia, we have more than 6,000 miles of unpaved roads. We know that these roadways will be challenging for automated systems and look forward seeing to what we can learn on the rural test track. We have no doubt that this state-of-the-art facility will foster collaborations between government, academia, and industry that will produce incredible results and advancements in vehicle safety and design," said McGhee.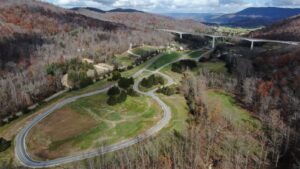 The Rural Roadway is 2.5 miles long and features steep hills, winding curves, unpaved sections, and other characteristics commonly found on roads in rural areas. Accounting for two out of every three roadways, rural roads are common. However, they are also known for their difficult driving conditions, making them a challenging — yet necessary — stage of automated vehicle safety testing.
"We believe that this testing is important to ensure that rural areas can benefit from these technologies and their safety and mobility potential. We look forward to continuing this important work with our partners and to finding new solutions to transportation challenges," said Dingus, during his welcoming remarks.
The opening of the Rural Roadway concludes the final phase of the Smart Roads expansion project, which is expected to have an overall economic impact of more than $285 million on the local area during its first decade and create 156 jobs in the region by 2026. With the addition of the rural test bed, the Virginia Smart Roads can now accommodate testing capabilities on every road type (highway, urban/suburban, and rural) in the country.
"At Virginia Tech, we are a top-30 public research institution and are known for exploring and pioneering innovative solutions through research. I look forward to seeing the advancements and technological innovations that VTTI, VDOT, and their industry colleagues develop as a result of this state-of-the-art facility," Sui said.
Relevant links: