Sometimes the real-world application of coursework is just flat out sweet.
"It was just so satisfying to finally see that fire get started and get to roast marshmallows," said Jon Dotson, a first-year student who took Virginia Tech's Intro to Backpacking, this fall.
Dotson was one of seven students to recently complete the course's capstone project, an overnight backpacking trip to Tinker Cliffs in nearby Botetourt County. Another seven students completed a similar project at McAfee Knob in Catawba, Virginia, a week later.
During the two-day trip, students were tasked with putting to work what they'd learned about outdoors recreation including proper backpack prep, setting up camp, finding and maintaining clean water, leaving no trace, and, of course, building a fire.
"That was probably the most satisfying part of the trip because it took about a half-hour to get the fire going," said Dotson, who is studying human nutrition, food, and exercise (HNFE).
A course within the HNFE program, Intro to Backpacking aims to not only teach the ins and outs of the popular form of recreation, but to also stress the importance of the physical, spiritual, emotional, social, and intellectual components of wellness. The overnight backpacking trip allows students to put that knowledge to work and learn from the experience.
"We teach them what they need to know, and help them define success, but then they are encouraged to explore, make mistakes, and learn from them," Ken Gates, Venture Out coordinator and instructor for Intro to Backpacking. "For example, You might not end up with the perfect meal on your first try, but it'll be a learning experience leading to a better stew in the future."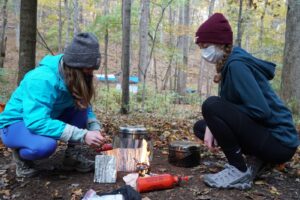 The course is offered in partnership with Recreational Sports' Venture Out program, which provides similar recreation opportunities and echoes many of those experiential-learning goals throughout its various offerings. Those offerings are just a handful of the many activites Hokies can do, this semester.
"One big difference between the course and a typical Venture Out backpacking trip is the instructor is responsible, rather than the students, for guiding the experience with Venture Out," Gates said. "A lot of learning still happens, but you're not tested the way students are in the course."
Experiencing the type of in-person learning environment provided by the course was the main reason first-year student Katie Carter decided to take the course alongside her suitemates.
"It was a lot different than I thought it would be," said Carter, who is interested in studying environmental science. "I have been camping and stuff all my life, but with this I had to do a lot more work."
Part of that work included setting up a campsite in accordance with the public health guidelines to help mitigate the spread of COVID-19. Rather than traditional tents, students either slept in hammocks or on sleeping pads beneath individual tarps they hung to help prevent rain.
Carter said she learned many lessons during the trip, highlighted by the importance of a base layer of clothing during chilly fall nights and appropriate meal planning.
"We cooked stew and pasta … that ended up being a whole mess," she said. "And we also had way too much food."
Dotson said those types of experiences not only allow students to learn first-hand, but also bond in ways a little different from a traditional classroom experience.
"You just get to know people so much better on a trip like that," Dotson said. "Going through something with them and work with them to accomplish something, it just brings you together in a really good way."
Dotson said he now has his eyes set on one day attempting to thru-hike the Appalachian Trail, while Carter is also looking forward to a return to the forest.
"It was a lot of fun. I think I'll definitely go backpacking again," Carter said.
– Travis Williams