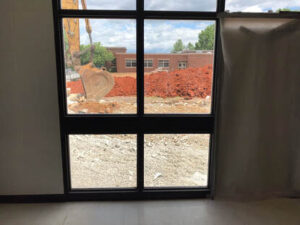 Construction That Began This Spring to Be Completed in Fall of 2020
After two years of planning and design, the North Cross School Board of Trustees and Head of School Dr. Christian Proctor have agreed to embark on a construction project that will impact every aspect of school life.
The campus, which was established in 1961 when the School moved from its original location in Salem, VA, has undergone many renovations in the past, but the $16.5M project now in the works will completely transform the appearance and facilities available to students and faculty to meet the needs of the progressive curriculum the School offers.
The project was designed by architects Balzer & Associates, Inc., and M&B Contractors is the managing contractor for the build.
"This project will re-imagine our campus to match the stellar classroom instruction of our faculty," remarks Fourd Kemper, the Chair of the Board of Trustees for North Cross, in a statement issued this week. "It will position North Cross as one of the premier independent schools in the Commonwealth of Virginia."
Construction began on the project's first phase as soon as students had left for summer break. The work includes major renovations of the School's circa-1985 high-school building, Willis Hall, and infrastructure improvements including an access road to the Carter Athletic Center which serves the outside population as well as the School's community. The access road enables the campus to become a pedestrian-only space. Fill is also being brought in to level the space between the high school and lower school buildings so that an annex can be built to join the two buildings and create a new pedestrian entrance for the school.
"We wanted to ensure a good deal of the most disruptive construction took place over the summer months during this year and next to insure that our students could return to their classrooms in the fall, and we're happy to say, that our goal will be a reality," notes Dr. Proctor. Students return to campus after Labor Day this year.
The project will be funded by a capital campaign, that is progressing through its quiet phase, and aims to raise $14M for the project. The remaining $2.5 million will be financed in the short term. Construction, which includes an all-new library, a new student center, an expanded CrossWalk classroom space (the school's learning differences remediation program), renovated theatre, and administrative suite, is slated to be complete by the fall of 2020.