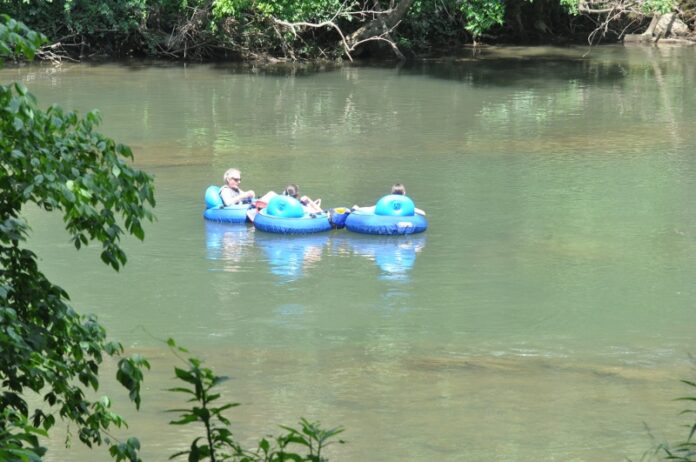 Have you ever wanted to experience the adrenaline-rushing excitement of white water rafting? A great starting point has recently opened in the Roanoke Valley's own back yard at the Explore Park off the Blue Ridge Parkway. Roanoke County Parks and Recreation has partnered with Blue Mountain Adventures to bring tubing, kayaking and canoeing along the beautiful Roanoke River Gorge.
Blue Mountain Adventures began the tubing and kayaking trips that travel a one-mile route down the river on Memorial Day weekend, and early indications are the new activity is quickly becoming a popular attraction for singles, families and groups.
"We've had great turnouts so far," Blue Mountain staff member Emma Layman noted while giving Star Sport's Editor and whitewater rafting aficionado Wild Bill Turner an exclusive tour on a recent weekend in late-June.
Running trips on Saturdays and Sundays every weekend through Labor Day weekend, the single price admission of $20 for the inflatable blue tubes that resemble large inner tubes, and $25 for the red,
one-person kayaks
that look like a small version of a whitewater raft, gives each rider transportation to the river put-in point and a ride back to the Camp Store after the take-out down the river.
The price allows each rider to ride the river as many times as they choose from 10am-5pm and also includes all van shuttles, life jackets and a dry box to secure personal items while they are on the river. The minimum age for any rider is seven. The last shuttle going down to the river goes out at 3:30 PM.
"We've had everyone from age seven to one lady who was 89," Layman said while navigating a golf cart down a steep trail from the Camp Store to a pathway that parallels the river. Along the way, Explore Park primitive campsites that provide a campfire site, picnic table and space for tents, as well as the availability of firewood, line the riverside for those who really like the idea of roughing it. Layman points out the campers add additional eyes and ears in case any rafter needs help while on the river.
"We want everyone to have fun, but safety is always our primary concern," Layman says. "We can hear the river from the Camp Store, but there are a lot of eyes and ears from our 5-6 person staff and the campers if a problem develops."
Layman. herself, has prior experience as a lifeguard and the associated training in CPR.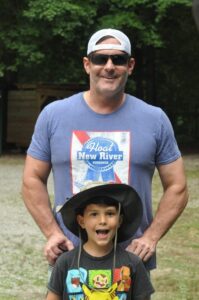 While whitewater rafting ranks the difficulty of navigating river rapids from Class I through Class V, with Class V being for only the most experienced, this section of the Roanoke River Gorge is dotted with several Class I and a single Class II rapid, intertwined with long sections of calm floating areas ideal for a fun-filled day on the river and non-intimidating for novices.
Layman pointed out that most areas within the one-mile route are shallow enough to stand up. About a mile upstream the Niagara Dam waterfall drops huge volumes of water into the gorge below that feeds the rafting section with the combination of rapids and the steady-moving float areas. The waterfall and its power can be seen on the main Parkway at the overlook located at mile marker 114.9.
Although on-line reservations are encouraged at ExplorePark.org/river to ensure a spot, walk-ups are welcome.
Emily Giebrer of Lynchburg was taking a break at the Camp Store with her husband before heading back to the river for another kayak ride.
"I saw this on Facebook and we decided to give it a try," Giebrer said. "It's a lot of fun. There are calm waters to just float along and relax, but enough rapids to make it exciting. Plus, we saw a lot of wildlife."
Jackson Beach Hall, age 8, was all smiles after taking his first rafting trip with his Dad, Scott Hall. Both were in town from Falls Church to visit family in Roanoke.
"It was fun and there was one place where we hit something and I really got wet," Jackson recalled, eager to be interviewed after his initiation to river rafting. "I'm ready to try it again, and maybe go a little faster next time." 
Blue Mountain Adventures was the brainchild of Holly and Jonathan Hart. The Hart family are Roanoke County natives with a passion for the outdoors. The family moved out to the San Juan Mountains of Colorado to fulfill their desire for adventure recreation.
Jonathan worked with San Juan Huts, managing, maintaining and servicing overnight accommodations for outdoor adventures. When they returned to the Virginia's Blue Ridge in 2015, the Harts discovered a newfound excitement for outdoor recreation in this area, and more people taking advantage of the fantastic natural resources available.
Blue Mountain Adventures was built around a love for the great outdoors and a desire to share it. Their goal is to provide an outdoor experience complimented by accommodations with emphasis on low environment impact.
"We couldn't be happier," Holly Hart said in a phone interview of the new river activities. "We're thrilled at the reception. It's been very satisfying."
"Capitalizing on the natural gems we have in Southwest Virginia, but also taking care of those treasures through investment and maintenance. We're excited for our business, but also for the community. It's such a mental and physical benefit to get outside and be active. We're proud to be making it more accessible for all levels from novices to enthusiasts." 
"We've had huge turnouts already this year, and are looking into expanding our fleet of rafts and kayaks by next year. We will also be open Thursday and Friday July 4-5 to expand the Independence Day weekend operations, and Labor Day Monday in September. If the temperatures stay comfortable, we're also considering adding Fall dates. The ideal situation is for air temperature and the water temperature to exceed a combined 110 degrees."
To reach the Camp Store follow the Blue Ridge Parkway to mile marker 115 to where it intersects with the road to Explore Park. At the main Explore Park complex, bear left and continue down the gravel road to Journey's End. The Camp Store is at the end of the parking lot.
And, come prepare to get wet, have an afternoon of fun and experience the beauty of the Roanoke River Gorge with Blue Mountain Adventures.