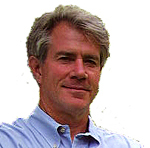 In the 1850's, something new fired to life on the banks of the Delaware River. The city of Trenton held a strategic location at the head of navigation on the river: it was easy to bring raw materials down to the city from upriver and from the hinterland. Trenton was also centrally located in the wealthy NY-Philadelphia corridor, and had distribution access not only to the river, but also to a canal, a railroad and the Atlantic Ocean, for easy transport along the coast and around the world.
Given there advantages, Trenton established itself as a center of what would become known as "pottery," which was a catch-all term for any mass-produced product made out of clay or porcelain. By the 1870's, there were several dozen firms in the city making everything from teacups to tiles to toilets, and Trenton was soon the pottery capital of the world. Several of the companies in town became world-famous, including American Standard, which made *ahem* "sanitary earthware."
In 1889, a new and very different player arrived in the city, oriented not as an industrial manufacturer, but as a "ceramic art company." It had just 18 employees who created one-of-a-kind pieces of dinnerware, some of which were so well-received that they were displayed at the Smithsonian as early as 1897.
At the turn of the century, residential housing changed in a big way. A new rage developed for houses that incorporated a thing called, a "dining room" where elegant hostess parties could be thrown. This in turn resulted in a new demand for mass-produced, high-quality dinnerware. To meet this demand, the ceramic art company reoriented itself and started producing full sets of its most popular patterns. And, to signal this change, the company renamed itself after its founder and became Lenox International.
Two of the first Lenox patterns, the "Ming" and the "Mandarin," were massive successes upon introduction, and remained in production for over 50 years. Lenox designers won all sorts of industry awards. In 1928, Lenox was the only American porcelain manufacturer included for display in the French National Museum of Ceramics. Perhaps most famously, Lenox was the first American bone china maker to have its products featured in the White House, when it delivered a custom set of 1,700 pieces to the table of President Wilson. Lenox has created similar sets for five subsequent administrations.
The Trenton area and Lenox have been fairly synonymous for a very long time. So much so that, not too long ago, if you were driving some country road on the outskirts of Trenton, you might come upon a farm stand selling vegetables and flowers, a few odd nicknacks, and maybe – for good measure – a few odd pieces of Lenox from the local manufacturer.
We know this because some previous owner of our farm apparently used to run just such a stand.
Down in the bowels of our house we have a pretty creepy crawlspace. It has field stone walls, a dirt floor, lots of broken glass and crockery, numerous layers of wiring, plumbing and insulation, and – most disturbingly – the obvious diggings and chewings of several generations of rodents.
And sitting in the dirt is a very large and heavy piece of oversized plywood, which we always assumed was an ersatz floor put there for one to slide along, making the dirty crawl into the back of that creepy space a little easier. But recently, with the renovation of the house underway, and needing to clean everything out, we decided it needed to be pulled.
So we grabbed hold of that heavy wooden board. We hauled it into the basement. We leaned it up against the wall. And that's when we saw the message on the other side.
"Flowers for all Occasions / Lenox China / Bluegate Candles / Pewter Brassware / Fruit Baskets"
Yep, it's a timely message from the past. The old farmhouse is slowly coming back to life. And apparently it wants to show off its local roots.
You can see the sign, and other updates of the Asa Hunt farm renovation, over here: https://asahunt1830farmhouse.org/2019/06/14/along-the-road