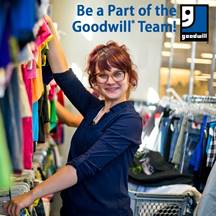 Goodwill has job openings for Sales Associates and Donated Goods Processors at locations throughout the New River, Roanoke, and Shenandoah Valleys. Goodwill is seeking to hire more than 200 new employees for the retail stores & donation centers. Full time and part time openings, and seasonal and permanent opportunities are available.
Goodwill workers make a difference in someone's life and our community. Goodwill offers competitive pay and benefits, advancement opportunities, and a diverse, exciting, and rewarding work environment. Working for Goodwill is more than a job… it's a career with a cause. Join the Goodwill team and help people with barriers to employment achieve the pride, dignity, and self-respect that comes from earning a paycheck.
Upcoming Hiring Events

Roanoke Hiring Event
Date: Wednesday, May 8th
Time: 10 am – 2 pm
Location: Goodwill Jobs Campus, 2502 Melrose Avenue, NW, Roanoke VA 24017
Harrisonburg Hiring Event
Date: Wednesday, May 8th
Time: 12 pm – 3 pm
Location: Goodwill Store & Donation Center, 2025 East Market Street, Harrisonburg, VA  22801
Louisa Hiring Event
Date: Friday, May 10th
Time: 2 pm – 4 pm
Location: Betty Queen Center, 522 Industrial Drive, Louisa VA 23093
Charlottesville Hiring Event
Date: Wednesday, May 15th
Time: 2 pm – 5 pm
Location: Northside Library, 705 Rio Road West, Charlottesville VA 22901
Madison Heights Hiring Event
Date: Thursday, May 16th
Time: 11 am – 2 pm
Location: Goodwill Jobs Center, 174 River James Shopping Center, Madison Heights VA 24572
Charlottesville Community Job Fair
Date: Thursday, May 23rd
Time: 10 am – 3 pm
Location: John Paul Arena, 295 Massie Drive, Charlottesville VA 22903
The listing will be updated as new events are scheduled. Please visit our website for updates: https://www.goodwillvalleys.com/goodwill-hiring-events/
Goodwill offers a competitive salary and benefits for full time employees such as medical, dental, vision, life, retirement, educational reimbursement, EAP, STD, LTD, and PTO. We offer retirement and EAP benefits for part time employees.