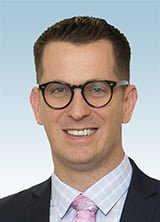 Jeff Lozowski has joined HomeTrust Bank as a Vice President and Retail Market Leader at the bank's Roanoke office at 316 South Jefferson Street.
He is responsible for training, developing, and coaching staff members, leading six branches in the Roanoke Valley, strategic planning with several lines of business, and managing action plans based on performance.
"I want the Roanoke market to be the place to work and bank. I believe we have two customers—the ones who come to conduct banking and the ones who come to work each day," said Lozowski. "My goal is to make it the best experience for both."
Lozowski has a decade of banking experience. Prior to HomeTrust Bank, he worked at Wells Fargo as a Regional Banking District Manager, and prior to that as a Branch Manager.
A graduate of Western Carolina University, he majored in criminal justice and minored in business law and administration. Lozowski is happily married, and he and his wife Erin love camping, taking their two dogs with them when they go. He volunteers for Loaves and Fishes and Habitat for Humanity, both in Charlottesville.
"Jeff's proven skills as a banker and a collaborator make him the right person to lead the six branches in our Roanoke market to continue providing an exceptional customer experience and develop long-term customer relationships," said Tom Goins, Executive Vice President for HomeTrust's consumer banking group. "We are excited to have him join our team."