The year was 1984.
A group of Roanoke Country Club members spearheaded the inaugural Scott Robertson Memorial Junior Golf Tournament to provide a showcase for the best junior girl and boy golfers throughout the region.
The event was held in memory of Scott Robertson, a promising Roanoke Country Club golfer. Scott, a 14 year-old ninth grader at North Cross School in Southwest Roanoke County, was a top student and sports enthusiast who had won his age division in several junior golf tournaments. Scott died as a result of infectious mononucleosis in the summer of 1982.
That first tournament finished with three boys winners, two from Bassett and one from Lynchburg. Joining them was the single girl winner, Vickie Linkous from Roanoke. The first winners from outside Virginia came along in 1986 when a pair of North Carolinians won the two oldest age groups for boys.
The tournament made one more major change to its format in 1995 when the field was changed to include four age groups, boys and girls 13-14 and 15-18. The tournament has now mushroomed to become one of the most popular and prestigious junior golf tournaments in the country, and an amazing springboard for many players who have gone on to play on the LPGA and PGA Tours.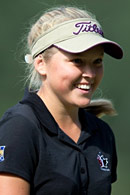 Winners of The Scott Robertson include Brooke M. Henderson, Moriya Jutnaugarn, Kristy McPherson, Paula Creamer, Jessica Korda and Aree Song on the LPGA Tour, along with Smylie Kaufman, Hunter Mahan, Webb Simpson, Kevin Na and Jon Curran on the PGA side.
The Scott Robertson Memorial laid claim to another milestone in April when Patrick Reed claimed a green jacket with his win at The Masters in Augusta, Georgia. They have now had a past participant crowned champion in all of the Men's and Women's Professional Major events held in the United States, including the U.S. Open, PGA Championship, Masters, U.S. Women's Open, Women's PGA Championship and the ANA Inspiration/Kraft Nabisco.
The 35th annual Scoot Robertson Memorial, presented by BB&T, will be played on May 18-20, 2018 at Roanoke Country Club's 27-hole course, an historic design by A.W. "Tillie" Tillinghast. Established in 1899, the tough Roanoke layout has hosted the VSGA Open, VSGA Junior, VSGA Junior Girls, VSGA Mid Amateur, VSGA Men's Team Matches and the Virginia State Amateur.
The tournament has built a national reputation for not only the quality of players it draws, but for the warm reception the players and guests receive from the Roanoke Valley, from host Roanoke Country Club, RCC members, and from hundreds of volunteers who help make the tournament run flawlessly.
The Scott Robertson Memorial also supports junior golf in the Roanoke Valley, specifically in their affiliation with First Tee Roanoke Valley. The proceeds from the tournament help their First Tee partner offer quality programs year round, not only from programs held at the Scott Robertson Memorial Junior Golf Academy, home of First Tee Roanoke Valley, but also with unique partnerships in the community.
While the majority of the final field is already set by early applications and a pair of April qualifiers in Roanoke and Naples, Florida, one final qualifier will take place on Wednesday, May 16th at RCC to round out this year's field. Players already committed come from all across the United States and over a dozen foreign countries, including the likes of China, Japan, Columbia, Canada, South Korea, Argentina,Malaysia, Italy, Switzerland, Czech Republic, Macau, Taiwan and Singapore.
Tournament administrator Debbie Ferguson, now in her 19th year at that spot, reflected on this year's competition.
"We had 350 applications for 168 tournament spots in the four divisions. Six more qualified at the qualifier in Naples and we expect one final spot in the Boys 15-18 division to be awarded from the May qualifier at Roanoke Country Club. Our original selections are based on strong tournament performances, player rankings, golf honors and prior participation in the Scott Robertson. It's a very competitive process. A number of our players come from several of the prestigious golf academies in Florida."
The course rotations from the 27-hole RCC layout in 2018 will include Boys 15-18 Redbud/Dogwood Green Tees, length 6,589 yards; Boys 13-14 Crabapple/Redbud White Tees, length 6,196 yards; Girls 15-18 Dogwood/Crabapple Yellow Tees, length 5,825 yards; Girls 13-14 Crabapple/Redbud Red Tees, length 5,542 yards.
Ferguson also says the tournament is still looking for volunteers, a key part of any successful event, to join the fun with a wide assortment of duties that can fit anyone's time frame and schedule.
The public is welcome to join the festivities free of charge during the 3-day event where you'll have the opportunity to see golf's stars of the future.
Bill Turner