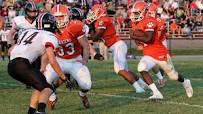 Whether you're staying close to home or warming up the bus, it's time for playoff football for eight of our "Big-11" teams, beginning this Friday night.
Only William Fleming, Hidden Valley and North Cross came up short in the playoff seedings released Sunday by the VHSL and VISAA. Here's a look at where the select-8 play and where to point your GPS. 190 VHSL teams made the playoffs, 32 in Classes 6, 5, 3, 2 and 1. 30 qualified in Class 4.
Class 5-Region D:
#7-seed Patrick Henry (6-4) travels to #2-seed Stafford (7-3).
Class 4-Region D:
#3-seed Salem (8-2) hosts #6-seed Charlottesville (7-3).
#5-seed William Byrd (9-1) travels to #4-seed E.C. Glass (7-3).
Class 3- Region D
#8-seed Cave Spring (2-8) travels to #1-seed Staunton River (10-0).
#2-seed Lord Botetourt (8-2) hosts #7-seed Tunstall (3-7).
#4-seed Northside (4-6) hosts #5-seed Abingdon (6-4).
Class 2- Region C:
#1-seed Glenvar (9-1) hosts #8-seed Dan River (5-5).
In the VIS DIVISION III, #1-seed Roanoke Catholic (10-0) hosts #4-seed Blessed Sacrament-Huguenot (4-5) at Vinyard Park.
In interesting twists to this year's selections, 11 of the 32 teams in Class 5 did not have winning records. In Class 4, only 4 had non-winning records, while the top-4 seeds in Region B have perfect 10-0 records.
In Class 3, 15 of the 32 qualifiers had losing records, with Staunton River the joining Phoebus as the only 2 undefeateds.
Class 2 has 3 teams with perfect 10-0 records, including Goochland, Woodstock-Central and Union, while Glenvar is joined by Clark County, R.E. Lee-Staunton, Luray, Appomattox and Ridgeview as the group coming in at 9-1.
Bill Turner