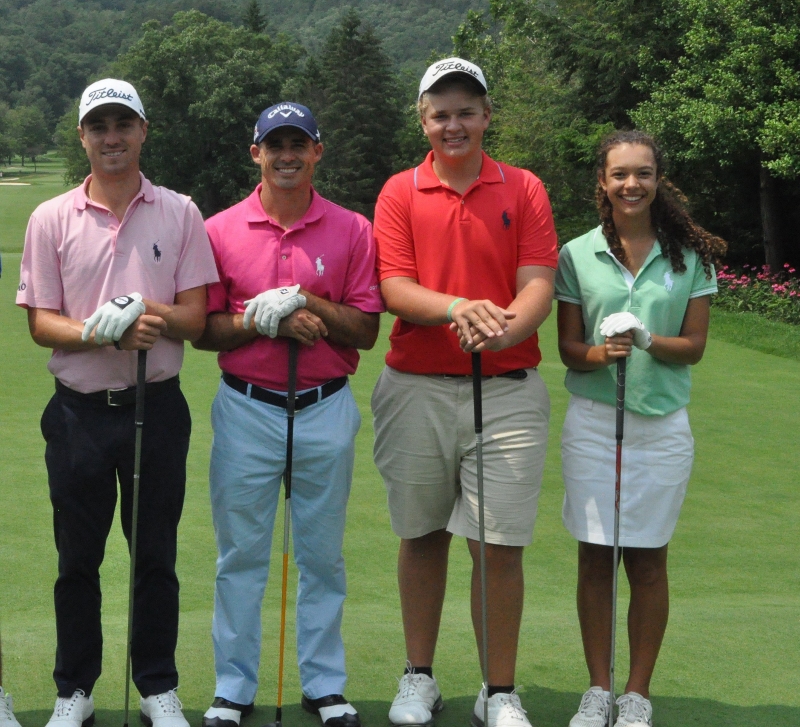 You could make a good argument that a few First Tee Roanoke Valley junior golf members were pulling for a particular player on the final nine holes of golf's last major championship of the year, the PGA Championship, August 13 at Quail Hollow Country Club in Charlotte, North Carolina.
24-year-old Justin Thomas held off Patrick Reed, Hideki Matsuyama and a group of others to win the 99th Championship, firing a final round 3-under-par 68 to win his first major championship in a classic battle for the Wanamaker Trophy.
Just over two years ago, Thomas devoted his time at the Greenbrier Classic Youth Day to be one of two PGA Tour pros that participated in The First Tee Scramble, a 3-hole shootout on the Old White TPC involving selected members from First Tee Roanoke Valley and First Tee West Virginia. Traditionally, the two First Tee Chapters have split the ceremonial $10,000 purse.
Representing First Tee Roanoke in that 2015 event were Vince Wheeler of Patrick Henry High School and Katherine Bowles of Rockbridge County HS. Jonathan Byrd joined Thomas as the other participating pro.
At one point on the back nine of Sunday's final round of the PGA Championship there was a five-way tie for the lead, where things took a dramatic turn on #10 when Thomas' long putt held on the lip for 12 seconds before tumbling in the jar for a birdie. That sent Quail Hollow into a frenzy and the gallery provided the energy for the young pro who had spent a couple hours at Youth Day two years prior making unforgettable memories for junior golfers. The win vaulted Thomas' name to join the likes of his good friend Jordan Spieth, Brooks Koepka and Reed when talking about golf's superstars.
In other First Tee Roanoke Valley news, their three participants for the newly-sponsored PURE Insurance Championship Impacting The First Tee (formally The Nature Valley First Tee Open) at Pebble Beach Golf Links on the Monterey Peninsula in California are set to tee it up with members of the PGA Champions Tour. John Hatcher Ferguson, Alisa-Marie Caraballo and Grace Huffman will head to the west coast for the September 18-24 prestigious event.
Bill Turner