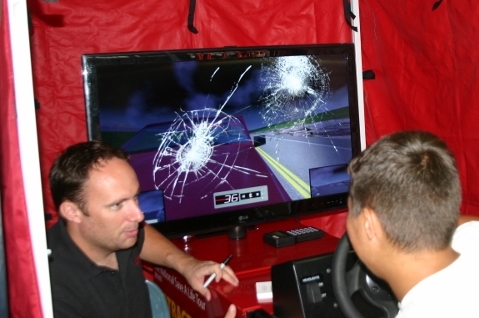 Visitors to the second annual Safety Day at the Virginia Museum of Transportation learned how to be safe around all modes of transportation.  Approximately 1,000 visitors came through the doors during the event last year, said Marketing Director Peg McGuire, and she expected the same number or more this time around because of free admission.  She said this allows families who wouldn't normally be able to come to the Museum to have some fun, too.
"Our focus this year is driving safely on the roads.  So we have texting and driving simulators and drinking and driving simulators in our Auto Gallery-Advance Auto Parts Auto Gallery.  We also have school bus safety and other safety organizations here."
Other organizations included the Fire and Police Departments, Mountain Valley Transportation with a school bus, and Safe Kids in conjunction with Carilion which was showing parents how to safely buckle their children into car seats.
"We live in Roanoke and Roanoke's a pretty friendly town. . . All these organizations are easy to work with so you just call them and say, 'This is what we're doing.  Can you make it?' and people usually go out of their way to come and do something like this."
Cejay Rich with the Save a Life Tour based out of Grand Rapids, Michigan was manning the texting and driving simulator.  It had a steering wheel and gas pedal plus a video screen in front of the driver simulating a windshield.  He says the simulator lets them (primarily teens or young adults) experience what it's like to be distracted.
"People are distracted by the cell phone when it rings.  Every 20 second they're going to get a text message and they have to respond to those text messages to the best of their ability.  And if they can't do that, they crash."
You can see this from a safe perspective "instead of going out there in the real world from a dangerous one (perspective)."
One of those who got a real taste of what it was like to text and drive was Will Ardis.
"It was really hard." [There were] "Many different distractions; talking to the instructor and trying to text at the same time and [I]just couldn't think of all the three things at the same time."  He's just learning to drive and says he definitely won't text while driving, "after I died in a 50 mile an hour head on collision."
Another community group was the YMCA, helping children and adults learn about water safety.  Kids had to pick a duck from the kiddie pool, answer a safety question and then they received stickers or other prize.
Kim Bratic from Roanoke and her three children Anya-age 8, Aleks-3 and Lily-5 enjoyed the day.
"The kids love the Transportation Museum and this is a great opportunity for them to have a lot of fun and also learn about safety.  We were outside at the fire truck and one of the firemen actually put his mask on.  And I thought that was actually a great opportunity for them to see him in a non-threatening environment, so that if they ever do see him one day, he won't look very scary."
 –  Beverly Amsler