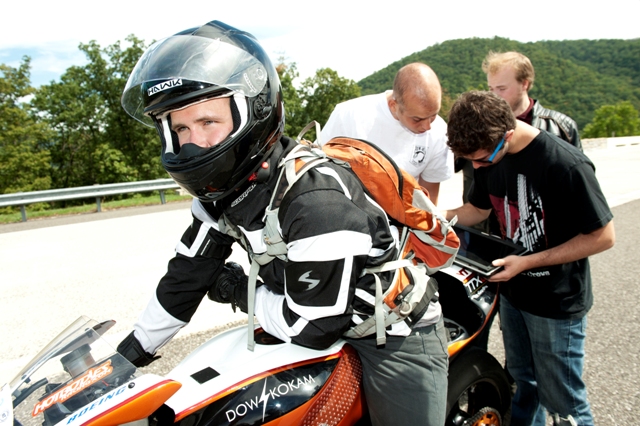 When John Marshall entered Virginia Tech as a freshman more than four years ago, he was set on an engineering job. He just was not sure which field at the time.
He found his path in the Joseph F. Ware Jr. Advanced Engineering Laboratory and as leader of a student team that designed and built an electric-powered racing motorcycle that competed with national teams.
Marshall, a graduating senior majoring in mechanical engineering, served as leader of the Battery Operated Land Transportation (BOLT) team during his senior year. He led 35 undergraduate students in building a low-emission electric motorcycle based off of a Suzuki GSXR 1000 chassis and developed plans for a future bike project.
"Virginia Tech has really been a place for my passions to mature," said Marshall, who is set to start a career as an engineer for a major engineering company. "I came in already knowing I wanted to be an engineer, however not specifically which kind. What really made the choice easy for me was the hands-on experience available to undergraduates in the Ware Lab and my time during the past two years on the BOLT team. They completely fulfilled my expectations of what an engineering education should be."
Under Marshall's leadership, the BOLT team participated in the North American TTXGP eGrandPrix. Dubbed the world's first "zero toxic emissions" motorcycle race series, the 2012 competitions pitted the student team against professional bike-builders such MotoCzysz and Brammo Inc. BOLT finished in top positions at races in Portland, Ore., Monterey, Calif.; and Salt Lake City in its class. The kicker: BOLT was and remains the only student-led team in the entire competition.
The team was set to compete in a world finale at Daytona International Speedway in fall 2012, but deferred as the bike could not meet expected track speeds of international competitors. As well, during race competitions, a professional racer pilots the bike, not a student. This is for insurance and safety reasons. Student team members, many of who are motorcycle enthusiasts, pilot the bike during practices and tests.
The Ware Lab is the cornerstone of the Virginia Tech College of Engineering's efforts to provide undergraduate students with a hands-on, minds-on experience that will better prepare them to enter the workforce, a chance to get their hands dirty with machinery and welding tools. Marshall, with his fellow teammates, did that and more, fabricating parts of the bike. Along the way, Marshall constantly learned.
"The most important thing I've learned as the team leader has been to delegate. With a project of this scale it really requires the dedication of the entire team to get the job done," Marshall said. "However, it's not just making a list and giving out tasks and deadlines. To be an effective project manager, one must know the strengths and weaknesses of each of the team members and help them find their place to excel."
Marshall has accepted an engineering position at Kollmorgen in nearby Radford after graduation. The company worked with the BOLT team during competition, supplying a custom-made AC permanent magnet and a specifically programed controller for the bike. Meanwhile, the team is gearing up with a new bike for 2013, built under Marshall's leadership, with TTXGP races set for this summer.
In true Ut Prosim spirit of Virginia Tech, Marshall has called winning races and prizes "icing on the cake" of building an electric motorcycle and still holds to that idea.
"Our project does have the potential to make a significant impact and certainly we immediately have the opportunity to show what Virginia Tech can do on the world stage," he said. "I attended Virginia Tech to prepare myself for the future, and I believe the biggest impact will be made by myself and the rest of my teammates as we go out into the world and use the experiences we've gained here to make a difference."