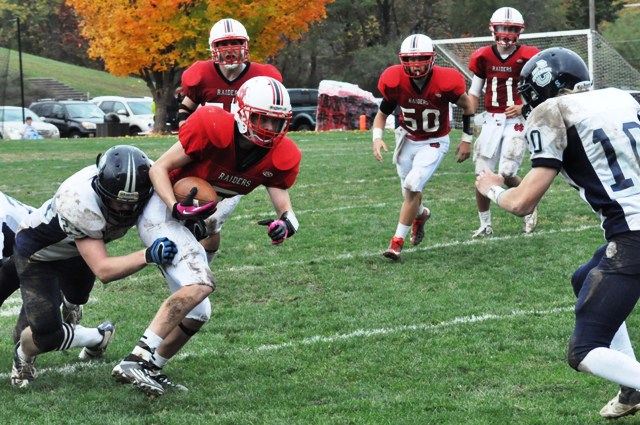 North Cross senior running back Evan Anderson put on a marquee show on Raider Senior Day Saturday afternoon at Thomas Field as the Raiders knocked off Covenant 46-27 in Old Dominion Football Conference action.
Anderson scored all four North Cross first half touchdowns on runs of 19, 51, 4 and 4 yards to stake the Raiders to a 26-7 lead at the break.
North Cross upped their advantage to 40-7 in the third quarter on a pair of Max Revercomb touchdown passes, a 50-yard strike to junior Harrison Call, followed by a 33-yard toss to freshman Jordan Lowrey.
Covenant made a brief charge with a 38-yard run by Austin Llera late in the third and a pair of fourth quarter scores that cut the North Cross lead to 40-27, before Anderson put the game away with his fifth TD of the contest on a run from 6 yards out.
Anderson finished with 214 rushing yards on 26 carries, while Revercomb connected on 10-of-18 passes for 157 yards.
North Cross got over .500 for the first time this year, as the young Raider squad improved to 5-4.
"We've come so far this year," elated Raider Head Coach Stephen Alexander said after the win. "The first half today was unbelievable. Our offense was really clicking."
"Today was our best game," he added. "We were going to take what the defense gave us."
"I've done the math a bunch of times," Alexander noted of the Raiders chances of making the playoffs. "If we win next week at Norfolk Christian, we may have a prayer."
The three North Cross seniors, Anderson, Branden Taylor and Eddie Smith, were honored during a halftime ceremony.