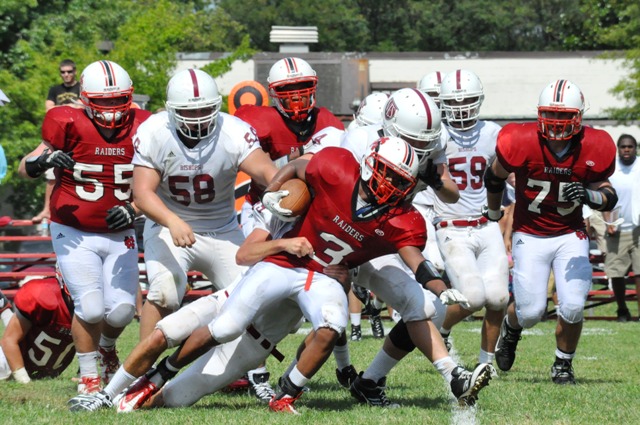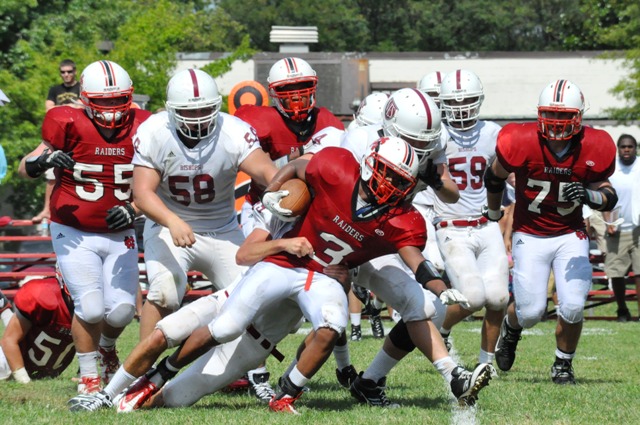 The North Cross debut in the Old Dominion Football Conference will be remembered for an afternoon of sweltering 90-degree temperatures, heat cramps and miscues.
The tough conditions that resulted in a game that took over three hours to complete, ended when Virginia Episcopal recovered an onsides kick to preserve its 24-20 win Saturday afternoon at Thomas Field.
North Cross, the defending VIS Division-3 state championship team, entered the game with a 21-man roster and only three seniors.
Things looked good for North Cross when Penn Draper hauled in a pass from Raider quarterback Max Revercomb, and raced down the left sideline for a 46-yard  touchdown in the first quarter.
After North Cross mishandled a VES punt, the Bishops came back on a 31-yard scamper by running back Ronnie Stringfield to tie the game at six. It appeared that would be the score heading to the halftime break, before a pair of costly miscues became the backbreakers for the Raiders.
Late in the half, Wyatt Slominski got behind the North Cross secondary and took a Tom Creasy bomb 84 yards down the right sideline to give VES their first lead.
After North Cross was forced to punt on their subsequent possession, Slominski moved in as the ball was rolling dead near midfield, grabbed it and raced to the Raider three-yard line before being caught. Creasy took it in on the next play, and Virginia Episcopal suddenly had an 18-6 advantage.
An ill-advised Bishop fake punt from deep in its own territory set North Cross up for a score early in the third quarter, with Evan Anderson scoring from 2-yards out to cut the VES lead to 18-12.
But, Stringfield followed with a 46-yard TD run to reestablish the 12-point Bishop cushion, 24-12.
Virginia Episcopal took an intentional safety with 40 seconds remaining, and North Cross took the ensuing free kick for a score with 7.9 seconds left when Revercomb scored from 7-yards out.
Revercomb threw for 112 yards on 9-of-23 passing. The Raider ground game was held to only 31 yards on 24 rushing attempts.
BILL TURNER game story/photo