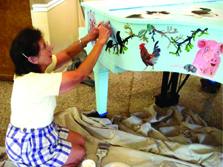 On Saturday, July 28, from 2 -4pm, Second Helpings will hold a special reception to celebrate the creative painting of their baby grand piano by six local artists known as the Double Line Painters of the Blue Ridge.
"Recently, the Rescue Mission was given a baby grand piano to replace the larger grand we had in the gallery which was becoming increasingly difficult to tune," said Kelli Brown, General Manager at Second Helpings. "However, the finish on the piano was rather distressed, so we proposed an idea to our gallery artists to have the piano painted. Having our artists paint the instrument would make it another work of art to be enjoyed by all who come to our gallery."
The special reception will feature the six artists as the piano is officially dedicated. The newly painted baby grand
will be used at all monthly artist receptions as well as at other events held at Second Helpings.
The Double Line Painters of the Blue Ridge is a group of local women artists who seek the unique beauty of
Western Virginia by exploring the backroads, recreation areas and neighborhoods of our community. Some work
in traditional oil painting methods, others in watercolor and others in mixed media. Their work is realistic or
abstract, contemporary or in the style of the old masters or serious and somber or playful and fun.
"We enjoy the company as much as the activity of painting outdoors (plein air)," said Sue Furrow, a member of the Double Line Painters. "We bounce ideas off each other, share interesting books or magazine articles, offer critique and suggestions as well as a cheering section for support and remain consistent in our desire to improve as artists and learn to see what this beautiful region has to show us."
Members of the Double Line Painters who contributed to the project include: Bonnie Mason, Mary Anne, Meador Judy Lochbrunner Midge McCoy Ovenshire, Linda Schaar Sue Furrow
To learn more about the group, visit their blog at http://doublelinepaintersoftheblueridge.blogspot.com.
Located at 1502 Williamson Road. To learn more about how your patronage helps those in poverty or how to volunteer at 2nd Helpings Shop, Gallery, or Café, call 540.491.9405 or visit our website, www.2ndhelpings.org.