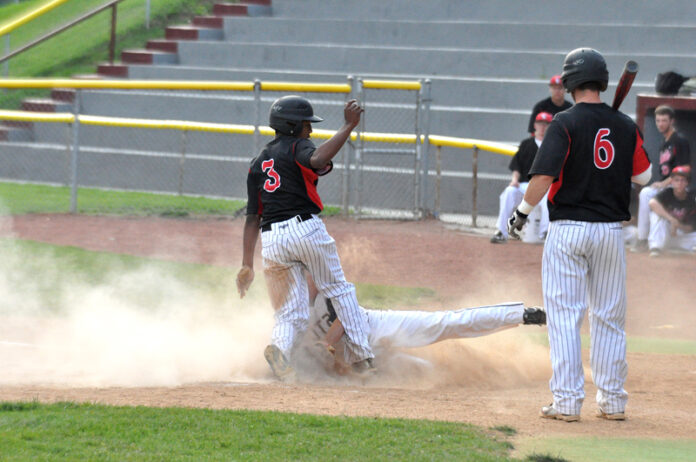 by Bill Turner
Cave Spring executed a dramatic 3-run rally in the top of the seventh to overcome a two-run deficit, and the Knights defeated Hidden Valley 9-8 in the Region IV baseball final played out at Kiwanis Field in Salem.
Both teams had already securred a spot in this week's Group AA state quarterfinals, but bragging rights, along with first-round home field advantage for the winner, were at stake in a game that quickly offered an atmosphere akin to a World Series game-seven.
Cave Spring jumped out to an early 4-1 lead before storms arrived in the bottom of the third, leading to an hour, forty-five minute delay. When play resumed, Hidden Valley wasted no time knotting the score at 4 after four innings.
 The Knights plated two in the fifth for a 6-4 lead, but Hidden Valley looked to be in a commanding position after getting 4 runs in the bottom of the sixth.
Down to its last three outs, Cave Spring loaded the bases, and Reece Kingery drew a walk to cut the deficit to 8-7. One out later, Austin Epperly, whose fielding miscue had fueled the Titan rally in the sixth, smacked a 2-RBI, first-pitch fastball to the wall in right-center, giving Cave Spring the final margin.
Harrison Richards took to the mound for Cave Spring in the bottom of the seventh, retiring the final two batters on strikeouts.
The game featured two balks, several hit batsmen, a coach being ejected, eight pitchers, three runners called out on close plays at the plate, and an out being called after a player passed third twice during a rundown and not tagging the base on his second retreat to second base.
Add to that, both managers being summoned to the field to identify, without success, an outspoken fan who offered an obscene comment on the home-plate umpire's strike zone, and you had quite the evening in a game that lasted just eight minutes shy of five hours.