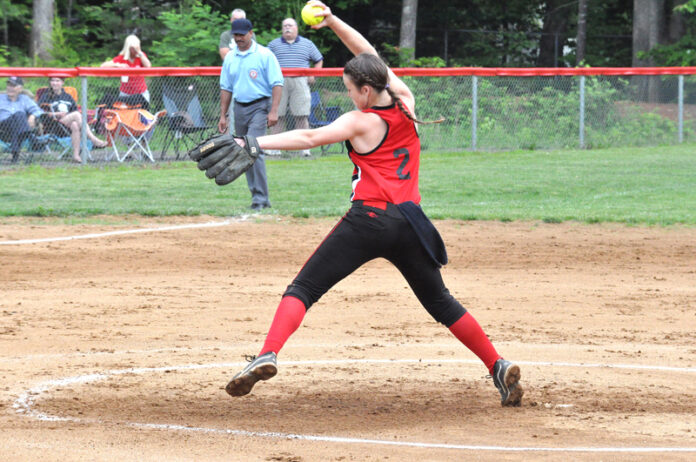 by Bill Turner
Cave Spring starter Taylor Asimakopoulos pitched one-hit ball for five innings to pick up the win, and Danielle Stump shut down Blacksburg over the final two frames, as the Lady Knights advanced in River Ridge softball tournament play with the 5-1 win Tuesday afternoon at Knights Field.
Cave Spring would get all the runs they would need in the bottom of the first when successive one-out doubles by Dani Duff, Cortney Cooper and Asimakopoulos staked the Knights to a 2-0 lead.
Blacksburg's Hailey Porth led off the Bruin second with a homer to deep left that would be the only Bruin hit of the afternoon.
The Lady Knights added a run in the second, and got two insurance runs in the bottom of the sixth when Madi Billings' drive to left caromed off the glove of the Blacksburg outfielder for a double.
Cave Spring was anchored by several defensive gems by second baseman and Virginia Wesleyan-bound Kayla Malkos.
"After two or three, I thought they may try hitting it another way," Malkos said with a grin.
"I didn't see it fall in," Billings noted of her key hit in the sixth that clearly deflated any Blacksburg comeback. "I knew it was big, especially since we lost to them the last time we played."
"I was waiting on my pitch today," Knight senior Hannah Sitze said of her two timely hits. "I've been hitting better and better in the last few games."
"Defense was the key today," Cave Spring interim coach Chelsea Kelley pointed out. "We played the ball well. I never thought the two runs in the first would be enough; then Madi came up big with the double."