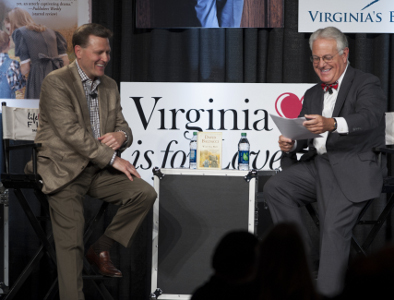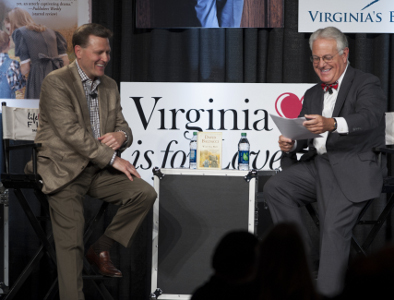 Featured speakers included #1 New York Times Bestselling Author David Baldacci, Lieutenant Governor Bill Bolling and First Lady of Virginia Maureen McDonnell
Industry leaders and local and state officials celebrated the economic impact of tourism and film production in the region at the Roanoke Valley Convention & Visitors Bureau's (CVB) Annual Meeting last week at The Hotel Roanoke.
"We were delighted to have an extraordinary lineup of great speakers to highlight National Tourism Week, to celebrate the recent launch of the new "Virginia's Blue Ridge" destination brand, and to showcase the unique partnership between tourism and Virginia's film industry," said Landon Howard, Executive Director of the Roanoke Valley CVB.
The event featured keynote speaker and #1 New York Times bestselling author David Baldacci, whose novel "Wish You Well" is slated to become the next film produced in the region. He expressed how this novel has a unique tie with his family roots in Virginia.  In an interview Baldacci said, "Virginia was always where this movie was going to be filmed, it was where it was set and Virginia is a character in this book.  So, if we didn't make it in Virginia, it wouldn't be worth making."
Also on hand were Lieutenant Governor Bill Bolling and First Lady of Virginia, Maureen McDonnell, announcing the celebration of National Tourism Week, May 5-13, when tourism is recognized for it's role as an economic development driver across the country.  "Tourism is a key component of our administration's economic development strategy," Lieutenant Governor Bolling said. "In 2010, visitors to our state generated $19 billion dollars in spending and supported more than 204,000 jobs in the tourism industry. Tourism is big business in Virginia, and that's why Governor McDonnell and I will continue doing everything we can to support this vital industry."
 The economic impact of films produced in Virginia generated $344 million in 2010.  The Roanoke Valley experienced a 6% increase in tourism related expenditures in 2010 which generated 7,000 jobs and over $134 million in local employee earnings.
Local tourism industry professionals honored at the Annual Meeting included:
Trixie Averill, Roanoke Valley CVB, Marketing Advisory Chair received the Tourism Ambassador Award for outstanding efforts, dedication and support toward the promotion of the region and its many tourism attributes
Roanoke City Manager, Chris Morrill, Roanoke County Administrator, Clay Goodman, and Salem City Manager, Kevin Boggess – each received the Golden Star Award for their outstanding commitment to facilitating economic growth in the tourism industry
Granger Macfarlane, Former Virginia State Senator, received the Presidents' Tourism Excellence Award in recognition of his lifetime achievements in developing and promoting the tourism industry in Virginia's Blue Ridge and the Commonwealth of Virginia.