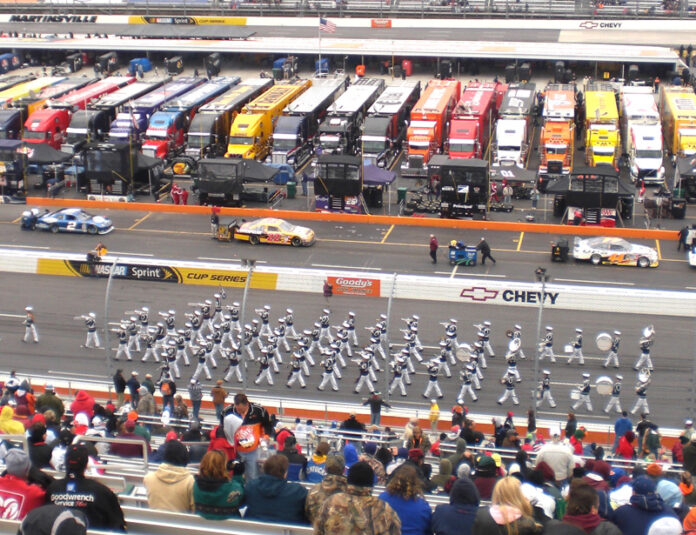 by Carrie Cox
The Virginia Tech Corps of Cadets will be represented at the NASCAR race at Martinsville Speedway in Martinsville on April 1 by the regimental band, the Highty-Tighties. The band has been invited to perform the national anthem prior to the start of the Goody's Fast Relief 500 NASCAR Sprint Cup race and will be marching on the race track.
"We are excited to share our music and Hokie pride with Martinsville," stated Band Cadet Commander, Cadet Maj. Jonathan Corns of Critz, VA., a senior majoring in history in the College of Liberal Arts and Human Sciences and pursuing a minor in leadership studies who is enrolled in Army ROTC. Corns is a recipient of the Peggy C. and Raymond E. Reed '57 Regimental Band Emerging Leader Scholarship and will be commissioned in the U.S. Army this May.
The Highty-Tighties formed in 1893 and is today the oldest collegiate band in the Commonwealth of Virginia. They are a field band, and they provide military music for all cadet activities. The group also performs at numerous events on campus to include every home football game, in the local community, and around the nation. The Highty-Tighties have three ensemble groups, the Southern Colonels, the jazz ensemble; En Corps, a string quartet; and a brass quintet.
The band performs in many parades each year such as the University Homecoming Parade; the Veterans Day Parade in Roanoke; and the St. Patrick's Day parade in New York City, which they marched in this past Saturday.
The history of the band is rich and full of accomplishments. Going back to the time of the Spanish-American War, they have upheld their motto 'Deeds not Words.' After being told they were not going to be allowed to help the war effort as cadets, a large group of bandsmen dropped out of school and enlisted. They never saw action but legend has it that in honor of their service, they were later awarded their white presidential citation cord, still worn by all members today, by President Franklin D. Roosevelt.