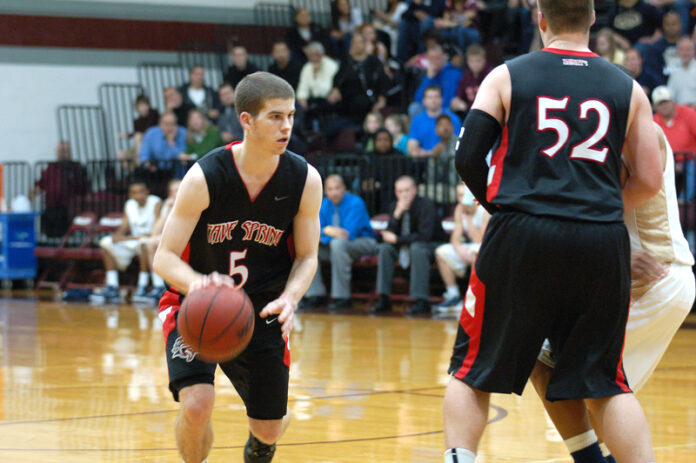 by Bill Turner
Cave Spring's third meeting with River Ridge power Christiansburg fell just short last Friday night, as the Blue Demons prevailed 47-43 in the district tournament final played at Salem High School.
The two teams had split their regular season contests, with Christiansburg winning at home in overtime and Cave Spring taking the rematch on the Knight hardwood on February 3rd.
Friday night's title game looked all Christiansburg in the early going. The Blue Demons  jumped out to a quick 10-0 lead that left Cave Spring playing catchup most of the first half. The Knights kept clawing back and managed to forge a 28-28 tie heading to the locker room.
Christiansburg opened the third quarter by scoring the first eight points, but Cave Spring again came back to take a 43-42 lead on an Aaron Cupp 3-pointer with 3:32 left in the game. It was Cupp's second bomb from behind the arc in the decisive final frame.
Christiansburg closed the deal down the stretch by scoring the game's final 5 points as Cave Spring couldn't get potential go-ahead shots to go down.
Ryan Gladfelter led the Cave Spring scoring with 17 points. Cupp and senior center Amin Abuhawwas each added 9.
"We made two great comebacks against a very good team," Cave Spring head coach Billy Hicks noted in the Knight locker room afterward. "We were down 10 out of the gate and eight to start the second half. I'm prouid of our guys. They battled back to take the lead in both situations."
"This game didn't change things for our regional seeding," Hicks added. "For many of our players, this was the biggest game they've played. Now, they've got another to look forward to."
After the game, Abuhawwas was named to the River Ridge All-District Boys Basketball First Team, as well as River Ridge Player of the Year. Gladfelter was named to the Second Team, while Cupp picked up honorable mention.