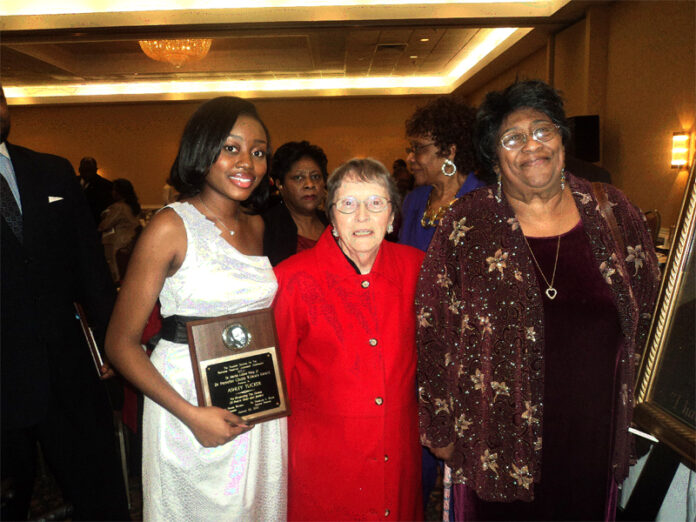 February's focus on Black History Month connects young people with eminent black leaders in the past, but also showcases outstanding young people who are seeing the future from a different frame of reference. Ashley Nicole Tucker is just such a person –  a sophomore at Hollins University from Cleveland, Ohio, drawn to Hollins by its national reputation for educating women leaders as well as a desire to participate in the school's famed riding program.
On January 20, Ashley was honored as the recipient of the Southern Christian Leadership Conference's Dr. Perneller Chubb-Wilson Justice Award at its Seventeenth Dr. Martin Luther King, Jr. Holiday Banquet. The college student has the distinction of being the youngest recipient of this chapter's highest award, and her acceptance speech created a buzz that had audience members talking about a keynote address in her future.
The Justice Award is given in honor of Dr. Chubb-Wilson, the founder and first president of the Roanoke Chapter of the SCLC.  Chubb-Wilson is also credited with a bill passed into law by then-Congressman Jim Olin that helps preserve the rights of individual citizens under the First Amendment of the U.S. Constitution. Through the years, Dr. Chubb-Wilson received recognition in the struggle for civil rights by Presidents Ronald Reagan, George H.W. Bush, Bill Clinton, and George W. Bush.
This past Spring Ashley was selected as one of only eleven delegates to attend the United Nation's 55th Commission on the Status of Women, meeting in New York City in March. She is deeply grateful for the opportunity to meet with international policy makers addressing the urgent issues of gender equality and human rights throughout the world.
Ashley came highly recommended for both honors due to her diverse range of interests and experiences that include work at the NASA Glenn Research Center in Cleveland where she conducted research and was responsible for working on a new database that deals with material intelligence as well as advanced research at Yale University.
She was also part of an international team that traveled to South Africa to help build a training center for women in a remote township. Since then she has become a passionate proponent of advancing the status of women on a global scale by a variety of means – one by recognizing  new standards for literacy that require the ability to "learn, unlearn and relearn," a saying she quotes from Alvin Toffler. At Hollins she is an Ambassador who represents the college to prospective students and parents and collaborates in programs with Admissions and Orientation Services.
Blessed with parents who are supportive as well as accomplished in their own fields, Tucker is showing herself to be a person of immense potential as she navigates college life and the opportunities that have already come her way.