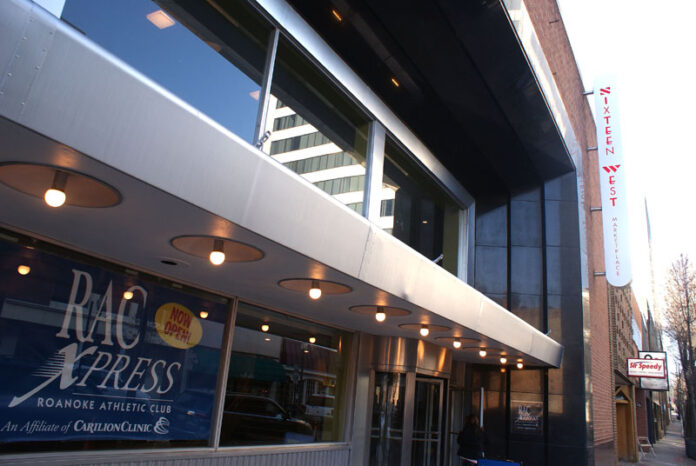 by Gene Marrano
John Garland, president of Spectrum Design, architectural and engineering firm, has had a hand in most of the downtown renovation projects that have transformed old properties well past their prime into interesting new places where people can live, work or shop.  In some cases Garland and other partners are not hired by other owners but invest and renovate these properties themselves. That's the case at Sixteen West, which just cut the ribbon on the RAC Express (Roanoke Athletic Club) space last week.
There's a lot more to Sixteen West than a health club however. Eight living spaces in the building have already been leased. "People were lined up to get them, I was amazed," said Garland. Downstairs in the Sixteen West Marketplace building, (which is LEED certified as being energy efficient) Garland is negotiating with tenants, looking for a grocery store, a pharmacy and businesses that can occupy several food stalls like the ones found in the City Market building.
A chiropractor is already on site in the 50 year old plus building, a former cafeteria that features art deco architecture and an original revolving door – rare in Roanoke, but much the rage in big cities years ago. The sweeping atrium and ribbon-like staircase inside the front door provide for a grand entrance.
Garland hopes to have all the commercial spaces up and running by spring or early summer in the 35,000 sq. ft. building. The critical mass of people living downtown – a thousand or more now, according to Garland, makes a grocery store or a pharmacy much more viable for business owners.  A grocer has already been found and could be in place by March, according to Garland. "There's enough of a community downtown to support it. It's exceeding our expectations."
Garland and three other partners have sunk about two million dollars into the former S&W cafeteria site, which they purchased at 16 West Church Avenue about three years ago. It formerly housed the Downtown Athletic Club as well. "We used to come down here when I was young," said Garland, remembering the cafeteria, which closed in the late '70s.
There are more than 500 members at the RAC Express, which replaced the old Zoom location downtown and is owned by Carilion. Garland says the RAC Express brings foot traffic into the building from 5:30am to 8pm. The downstairs commercial tenants should appreciate that. "A big plus for whomever is in the building," said Garland.
Spectrum got started in the historic preservation business with the Higher Education Center and has been involved with most of the downtown renovated living spaces as the design/engineering firm, and in some cases where Garland is involved as an owner. State and federal tax credits that can be used to offset building costs help make the renovations financially viable. The Cotton Mill Lofts and the Patrick Henry Hotel are just two properties Spectrum has helped redesign and engineer. "I had a keen interest in this building because of its history," said Garland of Sixteen West. He also described a "passion to do something downtown that would serve the needs of residents."
Garland recalls seeing the "demise of downtown for years and years," as retailers left for the suburbs and malls. He didn't quite foresee Roanoke's rebirth but is happy to be a big player now. "I kind of got on the bandwagon. Its real exciting to see it turn around."  There aren't many bargains left downtown for others looking for properties to renovate, but Garland said "they're still here."  One of those spaces is the old Heronimus store on Jefferson, which is owned by Calvin Powers. Garland hopes someone will "turn that building around" in the near future.
One of the spaces Spectrum is involved with as an A&E firm is the West Salem Lofts. Owned by Bill Chapman, the West Salem Lofts are located next door to the Habitat for Humanity store and feature 25 living units.