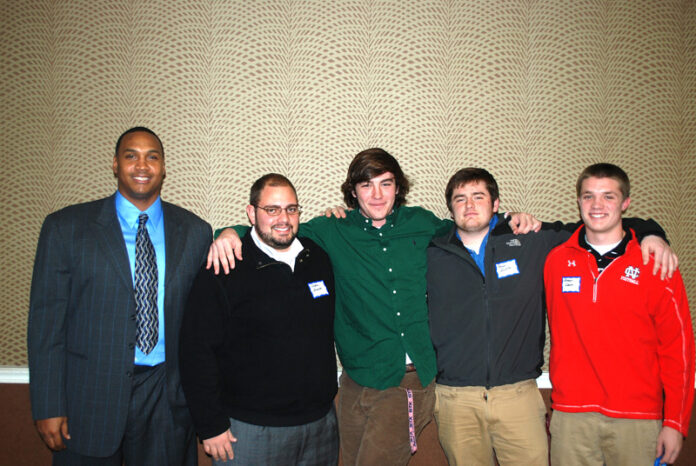 by Bill Turner
Shannon Taylor obviously has a head for football, and the experience at various levels to back it up.
The former University of Virginia and NFL linebacker shared his background Monday night as the featured speaker at the Roanoke Valley Sports Club meeting at the Salem Civic Center.
The monthly gathering honored the state championship North Cross football team as well as the state championship Cave Spring volleyball team.
Taylor is the current defensive coordinator for North Cross head coach Stephen Alexander's squad that defeated Norfolk Christian Academy in November for the VIC Division-3 state title.
Taylor began his playing days locally at Patrick Henry High School where his primary position was quarterback for the Patriots in the early-90s. After a one-year stint at prep-school Fork Union Military, he signed with UVa to play under long-time Cavalier head coach George Welch.
 Taylor said one his best influences at Patrick Henry came from PH basketball coach Woody Deans. "He taught me how to shake a man's hand and look him in the eye."
At UVa, Taylor noted Welch gave him the opportunity to choose from five positions. "In the end, I had playing time at linebacker and defensive end," Taylor said. "Those were some great days in UVA football-at one point we were ranked 6th in the nation and playing some of the best teams in the country. I played with guys like Anthony Poindexter as well as Tiki and Ronde Barber.
Taylor was drafted in the 6th round of the NFL draft by the San Diego Chargers before setting out on a NFL career that spanned 2000-2003 with the Chargers, Baltimore Ravens and Jacksonville Jaguars.
Taylor noted his time with Baltimore was the highlight of his NFL career. "At Baltimore, it was an amazing experience. I had fun and played with some very talented guys." Taylor said he played primarily on special teams for the Ravens.
"The NFL is a tough business," Taylor points out. " It's all about what have you done for me lately."
In addition to being the Raider defensive coordinator, Taylor currently coaches basketball in various programs to contribute to the development of young athletes and their character. "There's a ton of good athletes out there," Taylor notes. "For any school there's a constant- they want good people first."
The Roanoke Valley Sports Club meets monthly with distinguished speakers from all areas of the sports world. For information about attending or joining, contact Tom Marchi (588-2969) or Dave Ross (774-1080).