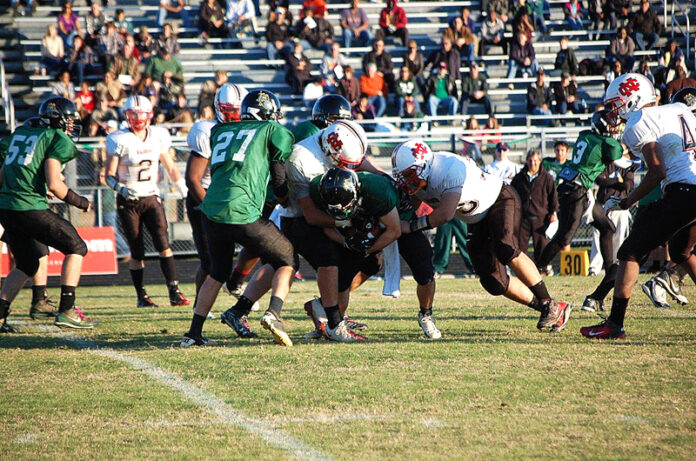 The North Cross Raiders traveled to Spotsylvania County last Saturday and burst the bubble of previously undefeated Fredericksburg Christian in the VISAA Division 3 semifinal matchup. Fredericksburg Christian came into the game undefeated having amassed 362 points while opponents only tallied 38 total points against them all season.
The first quarter ended with both teams moving the ball consistently between the 20's but the Raiders then exploded with 21 points in the second quarter as Thomas Weaver connected on a pair of touchdown passes to George Revercomb and Evan Anderson scored his first of three rushing touchdowns on the day.
 North Cross came out in the second half and picked up right where they left off scoring 22 unanswered points as the Eagles started to unravel, losing 2 players to ejection for unsportsmanlike behavior. The fourth quarter showed a patient North Cross team running out the clock and changing personnel in preparation for the finals next weekend. Fredericksburg Christian completed a long pass for a touchdown in the closing minutes resulting in a final score of 43-13.
North Cross' Evan Anderson rushed for 166 yards and 3 touchdowns. Quarterback Thomas Weaver was 14-27 for 169 yards and 2 TD passes to George Revercomb, who had 6 catches for 74 yards. The defense held Fredericksburg Christian to 105 yards rushing and 206 yards passing.
The Raiders now move on to a rematch of last year's VISAA D3 State Championship game against power-house Norfolk Christian, who boasts five Division 1 recruits with four already committed to UVA. North Cross pulled off the upset win over the Ambassadors during the regular season by a score of 34-27. The game is scheduled to be played in Norfolk on Saturday at 2:00 PM.