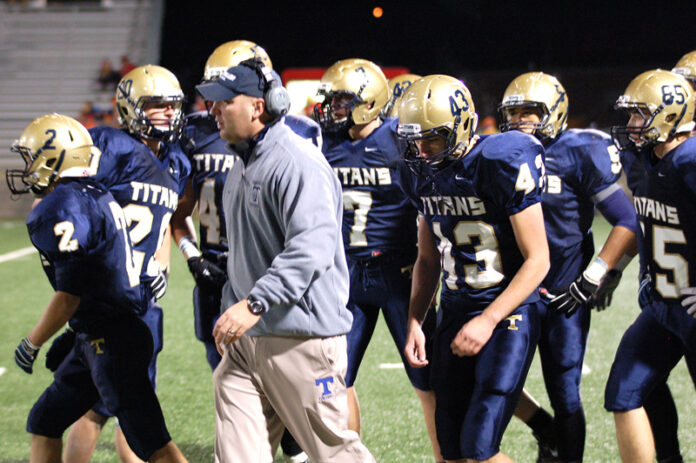 by Bill Turner
Hidden Valley used a relentless running attack to capture the Region IV Division 4 football playoff opener, as the Titans defeated Bassett 24-10 last Friday night at Dwight Bogle Stadium. Hidden Valley improved to 7-4, and advances to play at Christiansburg this Friday night.
The Titans were content to control the ball on the ground on a night when the temperatures stayed in the upper 30s throughout the game. Hidden Valley took the lead on its first possession when junior Jake Kite hauled in a 2-yard pass from Michael Simonic for a 7-0 Titan advantage. Bassett closed the first half scoring on a Zach Atwood 30-yard field goal that sent the teams to the break at 7-3.
Walker Brand put Hidden Valley up 14-3 on a 5-yard run in the third quarter, before Bengal running back Daniel Martin got Bassett to within 14-10 late in the quarter. The Titans would later tack on a 24-yard Landon Dermott field goal to go up 17-10.  Bassett was driving for a potential game-tying score midway through the fourth when Hidden Valley linebacker Trent Settles intercepted an ill-thrown Bassett toss. Hidden Valley closed the deal when Jimmy Howe scored from one yard out late in the final frame.
Brand led the Titan rushing attack, picking up 168 yards on 29 carries and Howe added 47 yards on 9 carries. The Hidden Valley defense limited Bassett to 243 total yards.
"We knew Bassett had a couple of explosive playmakers," Hidden Valley head coach Scott Weaver noted in the Titan locker room afterward. "Our defense made some big plays tonight."
Brand gave credit to the Titan offensive line for his big night. "Our offensive line was awesome. They really opened it up."