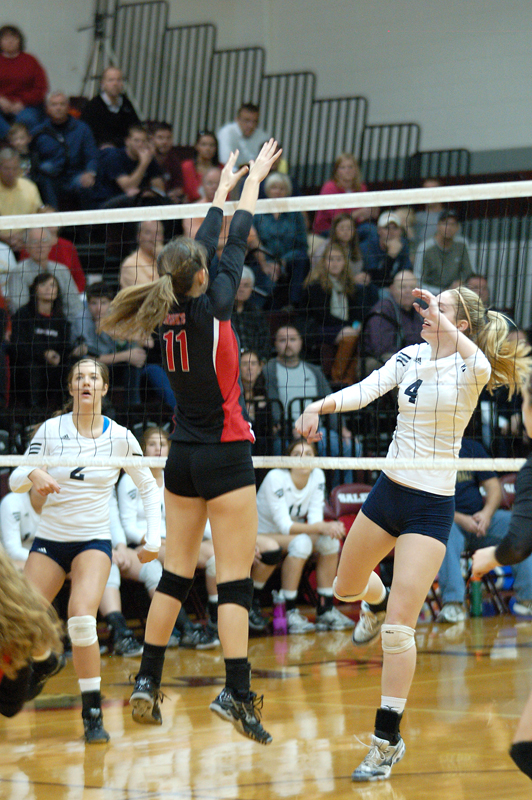 by Bill Turner
The dominance of Cave Spring and Hidden Valley in Region IV volleyball played out in round-five Saturday afternoon at Salem High School as the Knights dispatched the Titans in three games for the championship.
Before Saturday's showdown, Cave Spring had won the two regular season River Ridge meetings along with a preseason match, while Hidden Valley had posted the district tournament win over the Knights last week. Both advanced to the AA state quarterfinals, and the two remain on a collision course to meet in Friday's state championship in Richmond.
Cave Spring keyed Saturday's win ( 25-21; 25-23; 27-25) by jumping out to leads midway through each game and holding off Hidden Valley rallies down the stretch. Cave Spring's rapid ball movement and power finishing shots were the difference.
"We're moving in the right direction," Knights head coach Tamalyn Tanis noted after the win. "We need to keep our focus and not let teams get back in the game."
Davidson-bound Morgan Shannon led the Cave Spring front line with 14 Kills, while co-captain Shannon Craighead posted 34 assists along with 5 kills. Libero Lauren Sledd and Morgan Shannon each anchored the Cave Spring defense with 16 digs.
Hidden Valley was led by Caroline Boone's 15 kills, with Jenny Clark adding 5. JMU-bound Sarah Patterson set Hidden Valley with 28 assists and Clark displayed her mastery of the back line with 19 digs.
"We made good comebacks in games two and three, but we were just too far behind," Hidden Valley head coach Carla Poff noted. "We've got to play better."