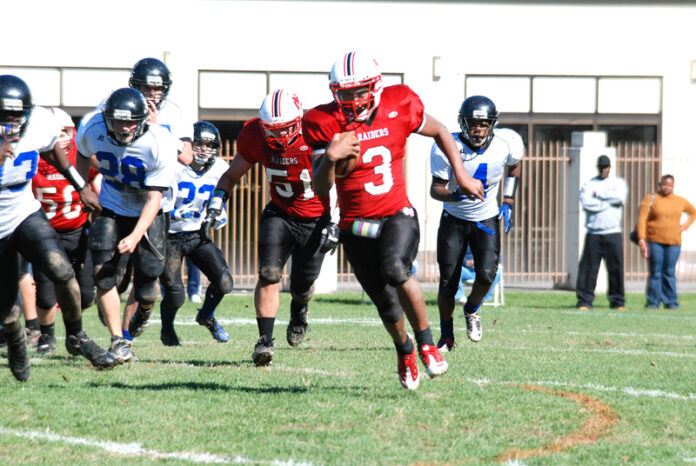 by Bill Turner
The playoff picture presented by North Cross head coach Stephen Alexander to his players was crystal clear during practice. "We are positioning for the playoffs," Alexander told the squad. "We can't afford any more losses."
The Raiders took their coach's words to heart as North Cross dominated on both sides of the ball in rolling over Atlantic Shores Christian 41-7 Saturday afternoon on senior day and homecoming at Thomas Field.
North Cross opened an early 13-0 lead on touchdown passes from quarterback Thomas Weaver to Hugh Cundiff (2 yards) and George Revercomb (5 yards), before Atlantic Shores took advantage of an injury-plagued Raider secondary for the Seahawk's only score of the game that cut the North Cross lead to 13-7 in the second quarter. It was all North Cross afterward.
Weaver hit wide receiver Josh Murray on a 26-yard scoring strike, and Evan Anderson scored from 3 yards out to put North Cross up 27-7 at the half.
Weaver added a 24-yard toss to Mark Dakermanji, with Anderson adding a one-yard plunge to stake North Cross to the final 41-7 margin after three quarters.
The Raider defense likewise rose to the occasion, shutting down an Atlantic Shores offense that had scored 40 points on private school powerhouse Norfolk Christian one week earlier.
Weaver threw for 248 yards on the day, hitting 22-of-39 passes. Anderson led the Raider rushing attack with 126 yards on 20 carries.
"We approached the game like it was week-one of the playoffs," Alexander noted at midfield after the game. "These guys really rose to the occasion."
"Half of our secondary was out today," Alexander added. "We can't afford any more injuries. But, today, I'm really proud of these guys."
North Cross improved to 5-3 on the season against what has been an exceedingly tough and ambitious schedule since week-one.