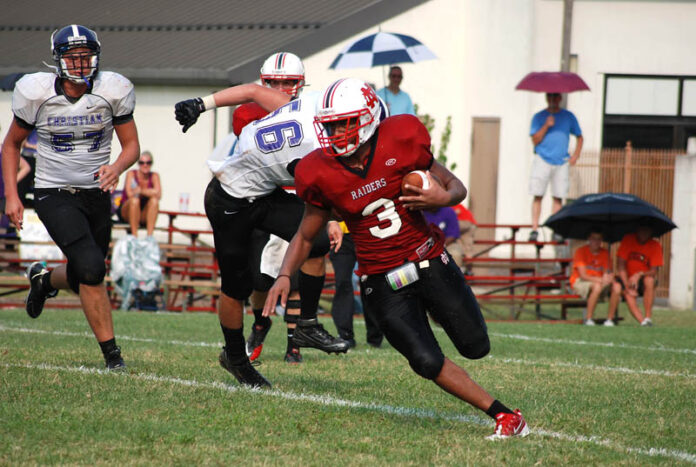 by Bill Turner
North Cross came back from an early 13-0 deficit to defeat defending VIS Division 3 state champion Norfolk Christian 34-27 Saturday afternoon at Thomas Field.
In a rematch of last November's title matchup won by the Ambassadors 29-14, North Cross fell victim to two long pass plays that put the Raiders in the hole early. But, a sunny, hot afternoon began to take its toll on Norfolk Christian and the superior conditioning of the Raiders came to light.
North Cross had clawed its way back on 66 and 43 yard hookups from Raider quarterback Thomas Weaver to wide receiver Josh Murray to take a 14-13 lead to the break. Norfolk Christian regrouped for the only score of the third quarter, and led 20-14 heading to the final frame.
But, telltale signs of what was on the horizon had already reared its head. On a sunny, hot day the effects of the long afternoon and high humidity began to slow the Ambassadors. In the matchup that exceeded three hours, Norfolk Christian players began dropping on virtually every play as leg cramps set in.
North Cross took advantage and ground out three straight touchdowns to start the fourth quarter. The Raiders led 34-20 and, although Norfolk Christian scored late on a 69-yard bomb, the Raiders ran out the clock for their first win.
North Cross running back Evan Anderson led the Raider rushing attack with 223 yards on 28 carries, including all three fourth quarter scores. Weaver passed for 226 yards with a 10-for-20 day. Raider placekicker Penn Draper connected on four PATs.
"The conditioning of our guys was the difference today," North Cross head coach Stephen Alexander said after the game. "It's part of our game plan from preseason. I'm proud of our guys. The conditions were tough and they sucked it up."
North Cross hits the road this Friday night for a 7:00 p.m. kickoff in Richmond against Blessed Sacrament-Huguenot.