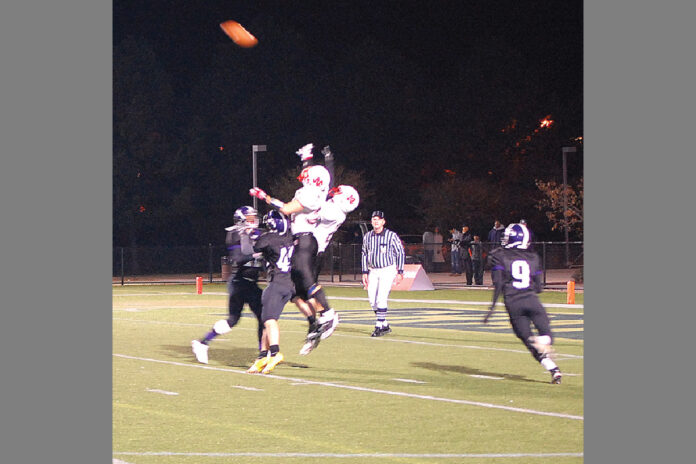 by David Grimes
North Cross: With the loss of 10 starters from last year's team that finished as state runner-ups in the VISAA, Division 3 playoffs, this could be a rebuilding year as North Cross School prepares to do battle this season. The Raiders, who return five starters, will be relying heavily on a trio of players.
"We are returning starting quarterback senior Thomas Weaver, who was a second team all-state in 2010; senior Paul Ross is moving to left tackle and senior Chris Shelton will be handling the snaps," said head coach Stephen Alexander. Weaver completed 119 of 245 passes for 1700 yards in 2010 and has been looking good in camp thus far, while Ross is an all-state lineman.
"We hope to be able to move the ball through the air and on the ground in our spread attack," added Alexander. Offensively, Alexander mentioned that "we must replace two dynamic receivers from 2010, as well as a starting tailback."
Defensively, the front seven are very athletic and physical. Senior Paul Smith, second team all-state last fall, anchors the line, while senior George Revercomb, a second team all-conference player, leads the linebacking corp. "We graduated three starters in the secondary, so we're relying on returning starter senior Kyle Fraser to be a leader on that unit," noted Alexander.
New to the North Cross schedule is Norfolk Christian and Carlisle, replacing Ben E. Smith (NC) and Covenant. Alexander sees his top game as being on Sept. 3 at 2 p.m. when they tackle visiting Norfolk Christian in a rematch of last year's Division 3 state championship game.
"We play a very ambitious schedule after graduating 11 seniors, including 10 starters and eight all-conference or all-state performers," Alexander added. "Depth will be an issue so staying healthy is key this season."
North Cross will play all of its home games on Saturday afternoons this season, opening the season this Saturday at home against Charlotte Latin School. Kickoff is 2 p.m.
Hidden Valley: After suffering through a winless campaign in 2010, the future is looking brighter in southwest Roanoke County, as Hidden Valley returns basically every player and looks to turn things around in a tough River Ridge District.
The Titans return 10 offensive starters this season, which include senior Michael Simonic (QB, injured all of last season), sophomore Walker Brand (TB), junior Garrett Pierce (FB), senior Dee Fletcher (WR), junior Jake Kite (WR), senior Shane Foley (TE), senior Trevor Holdren (LT), senior Jared Repass (LG), junior Chris Moses (RG), and junior Jordan Parke (RT).
"We will offer a more balanced attack with Simonic back from his 2010 knee injury, along with the continued development of Brand," said head coach Scott Weaver, who is starting his third season at the helm. Asked what needed to be improved offensively, Weaver said, "We need to be more balanced."
The Titans have added Bassett to their schedule this season, while dropping Brookville. What can HiddenValley fans expect in 2011? "I am extremely excited to see how this year's group responds from last year. We basically return every player from last year's team," Weaver noted.
"Most of these young men were forced into action as a freshman and sophomore last season. The learning curve and maturation process of our youngsters last season was accelerated due to injury. It will be fun to see the kids get after it this season with all of the experience they gained from last year." The Titans open their season on Friday, Aug. 26, when they host Patrick Henry at Bogle Field. Game time is 7:30 p.m.
Cave Spring: With the loss of several skilled players from last year's regional runner-up team, Cave Spring is looking for its younger players to step up this season, as the Knights work to make another playoff run in a competitive River Ridge District.
Gone from last year's team, which finished second in the district and lost in the regional semifinals to Richlands, is the likes of safety Michael Cole, who is at Virginia Tech, and quarterback Josh Woodrum, now at Liberty.
Offensively, Cave Spring returns five starters. "We return three of five offensive linemen and a running back," said head coach Tim Fulton. Returning to the backfield will be Sam Wright, who put in some impressive numbers last season. Asked about the offensive areas that needed improvement, Fulton replied, "We always want to execute better." On defense, the Knights also return five starters. "We are returning three of four linebackers," added Fulton.
New to the Cave Spring schedule this fall will be William Byrd, Martinsville and Lord Botetourt. They replace Staunton River, Graham and Patrick Henry-Roanoke. The Knights open their season this Friday night with a road trip to Vinton when they take on William Byrd in a 7 p.m. encounter.