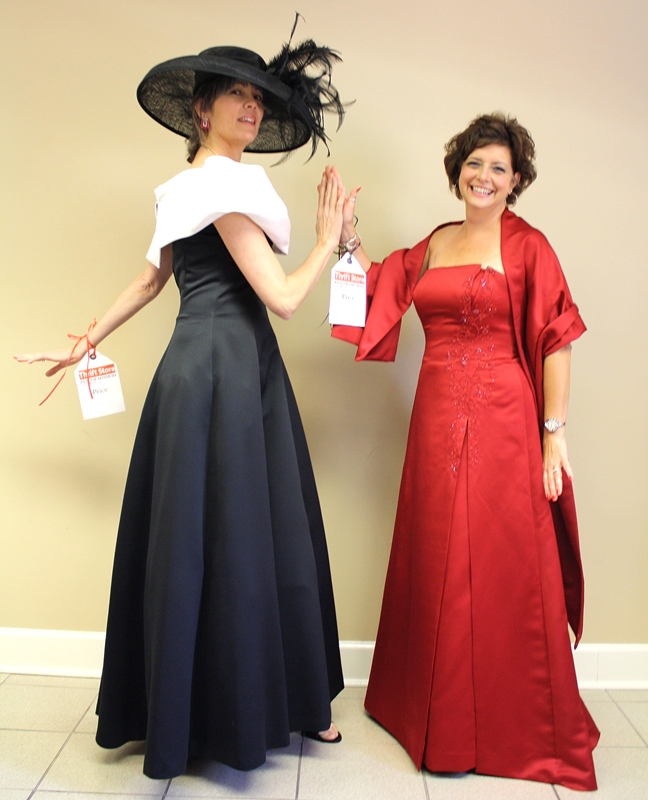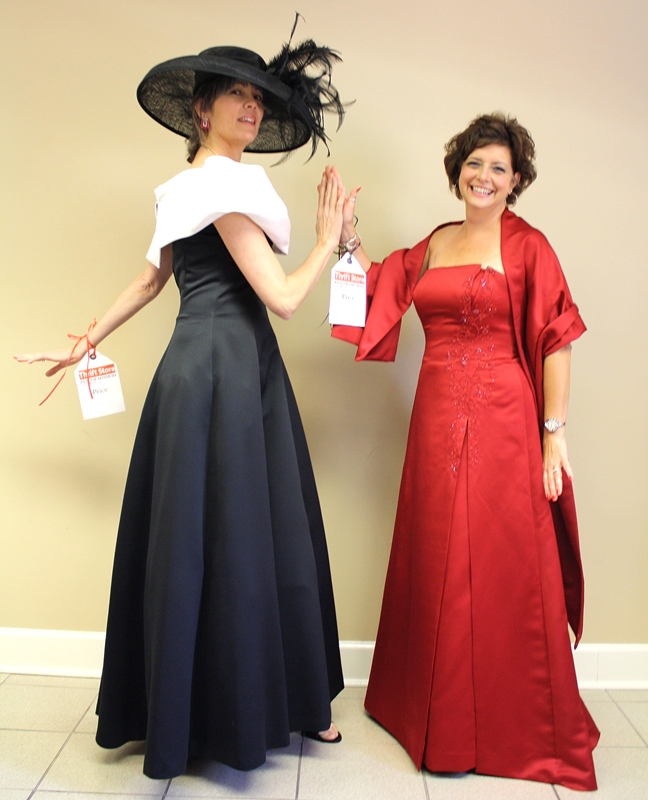 Where were all the glamorous women in formal attire going on a Wednesday afternoon in downtown Roanoke?
This year, National Thrift Shop Day, celebrated on Wednesday August 17, was hard to overlook.  From 12 noon to 1 p.m. fourteen "Mission Models" were positioned in the City Market area wearing thrift store formal wear to showcase the large selection of formal apparel that the Rescue Mission Thrift Store offers.
"People don't often associate thrift stores with formal wear, but after this they surely will!" said Gail Strickler, one of the organizers of the event for the Rescue Mission.  "We want women to know there are not only beautiful but also affordable prom dresses and evening gowns for all occasions at a third or less of the price normally charged right here at our store.  What better day to let people know this than on National Thrift Shop Day. "
Models included Rescue Mission staff as well as volunteer college students and business women, all wearing formal wear and accessories they found at the Rescue Missions Thrift Store, located at 402 4th street SE.  Rotating around the building every three to five minutes, the models will also wore oversized price tags to show what the entire outfit would cost if purchased at the Rescue Mission Thrift Store.
"I'm very shy and this is one of the few activities I feel comfortable doing," said April Saul, a Roanoke College math major who was also a model for the event.  Mary Ellen Apgar, a Rescue Mission Recovery Program graduate said, "It's fun to get all dressed up and be a part of this performance art on the market to support the Rescue Mission.  I'm excited to help promote an event for a place that did so much for me."
"Shopping thrift is great for our personal budgets, but I am even more excited about its other advantages," said Joy Sylvester-Johnson, the Mission's CEO.  "Although this particular event featured the Rescue Mission Thrift Store, we hope it helps to create a thrift consciousness which is great for our sister thrift stores and the ecological health of our entire community.  Shopping thrift provides a helping hand to such causes as shelters for the homeless, abused women and children, veterans services and sheltered workshops for those with mental and physical challenges.   Thrift store shopping is a win, win, win, win, win situation!"
The Rescue Mission Thrift Store is an earned income practice of the Rescue Mission, the largest homeless shelter in the state of Virginia, where as many as 400 men, women and children find safe shelter each night.  One hundred percent of the profit earned from the Thrift Store and its sister store at Second Helpings goes to provide safe shelter, nutritious food, and quality medical attention for homeless families.
For more information about the Rescue Mission, call 540-343-7227.